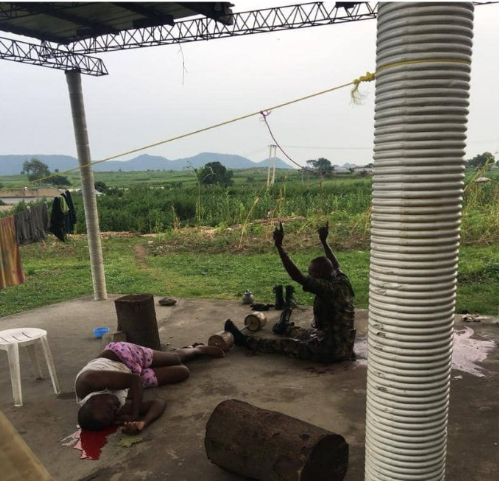 According to reports, a Nigerian soldier shot his colleague at the military barracks (Mogadishu Cantonment) in Abuja. It was reported that the killer soldier was allegedly drunk before he shot his fellow officer over an argument on his alarming alcohol consumption rate.
It was gathered that the soldier on uniform was granted a break, only for him to return heavily drunk.
The other soldier on mufti being guard commander – confronted him and asked him to change up for duty. The drunk soldier went in, changed into his uniform, picked up his rifle, came back out and shot the guard commander.
On seeing what he had done, the soldier allegedly shot himself but missed his own head and shot his mouth.
The shot soldier was rushed to the hospital and his current condition is yet to be ascertained.
Just recently, a Nigerian soldier identified as Adegor Okpako reportedly killed his partner, Saka, before he went on to commit suicide. The sad incident occurred during a training exercise at an army base in Borno State.
It was gathered that Adegor Okpako, a staff sergeant attached to 192 Battalion in Gwoza, killed himself at about 2:50 p.m. Wednesday.
Three soldiers and a member of the civilian joint task force were also seriously wounded in the random shooting by Mr Okpako, sources said.