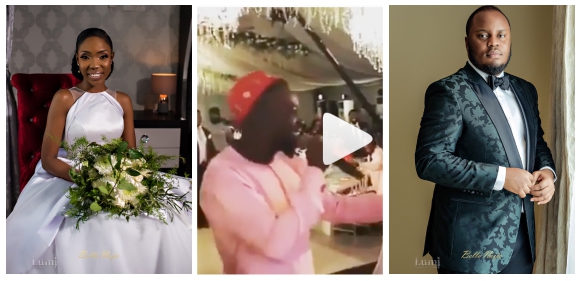 Famous Actress  Kemi Lala Akindoju, who recently tied the knot with her hearthrob Gbubemi Fregene aka Chef Fregz was surprised by Adekunle Gold as he stormed the wedding and performed one of his hit songs.
Lala Akindoju heard the song and thought it was blaring from the speakers, she sang along and kept on dancing with her husband.
Until someone pointed out Adekunle to her and she screamed for joy as she sighted him performing.
Adekunle Gold, who was meant to be in Ghana said he couldn't miss the wedding because the couple have always been there for him.
He wrote on Instagram;
"So Lala and Fregz were certain I was already in Ghana but the truth is I wouldn't have missed this day for nothing.
You guys are always present for me and It was my honour to surprise you.
Wishing for a beautiful life for you two and I will be sending down the award for #AGkaraoke because you guys know every lyric. ?#àṣéwẹ́rẹ́niṣẹ́olúwa"
Watch video below.