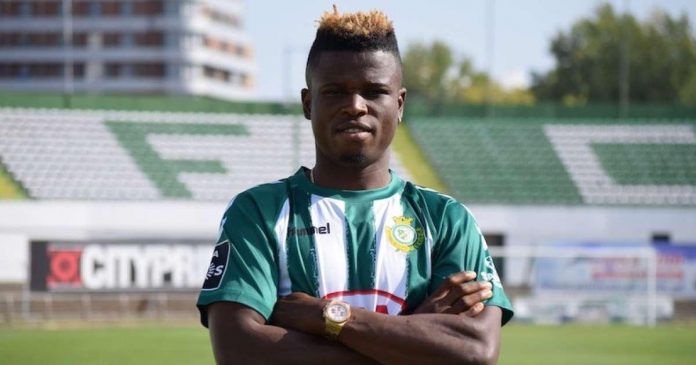 Super Eagles' fringe combative midfielder, Mikel Agu, has finally opened up on why his widely reported move to French giants Olympique Marseille did not materialise before the close of the summer transfer window, Completesportsnigeria.com reports.
In this exclusive interview with CSN, the 25 year old who is second stint as a loanee at Vitoria de Setubal, also reveals his ties with parent club FC Porto and the reason for his estranged relationship with the manager Sergio Conceicao.
"There was contact from Marseille. My manager was approached and FC Porto were also interested, but I was not cool with the terms. Marseille wanted me on loan with an option to make the move permanent but I was tired of another loan move after spending the last three years on loan. It was close to transfer deadline day and so the deal fell through," Agu said explained.
With the Marseille deal off the table, Agu chose to spend the season at Vitoria Setubal rather than stay at Porto because of his less than cordial relationship with the manager.
"I love Porto and what the club has done for me, but I don't want to go back there for as long as Conceicao is still in charge.
< ?div?>
"At the end of last season, when I finished my loan deal with Bursaspor in Turkey, I had many clubs asking if I was available, but the coach asked for me to come back so I had to tell the clubs that I was going back to Porto.
"The manager said he wanted me and Chidozie (Awaziem) back, but I didn't know he had an ulterior motive for saying so.
"I came back to Porto for pre-season and barely halfway into pre-season coach dropped me said that I was not in his plans. The question was at what point did he realise I wasn't in his plans? Was he expecting me to perform magic in two weeks?
"The fact was that most of his players were at the World Cup and he knew they would have extended rest periods so he needed training materials until they came back. A day before those players were expected to report back he called me and five other players and told us to look elsewhere.
"So that's why I said I don't want to go back to Porto as long as he's in charge. He wasted my time and denied me the opportunity to make a good move at the right time."
Agu now had to settle for late Rashidi Yekini's former club Setubal where he previously played on loan in 2016.
He said: "Porto mentioned four clubs who wanted me but the decision to go to Setubal was easy for me and I made it in one day. I had played here before and the club and fans were nice to me. The reception was good when I came and I quickly settled down even though only a few players from my time here were still around. It is still a loan deal, but I don't know the details because Porto are still paying my wages. So I can be recalled at anytime, but sincerely, I don't want to go back if the manager (Conceicao) is still there."
Agu was a last minute omission from Nigeria's squad to the World Cup but he hopes to reclaim his place in the national team with impressive showings for Setubal.
"Maybe most people have forgotten, but I got my first call up to the Super Eagles when I last played in Setubal, so if I keep my level high here, maybe I can get a recall to the team. All I need is to play and maintain a very high level of performance," he concluded.