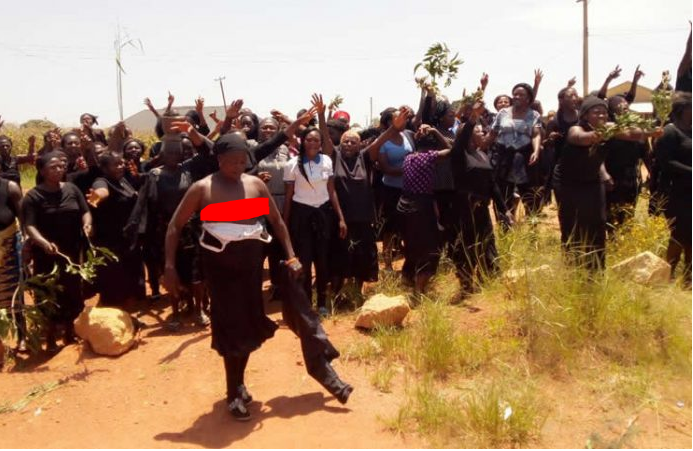 Some Plateau women numbering over 500  on Thursday protested in Dura Du community of Jos South Local Government area of Plateau State over the  decision of  the military to extend its search for Major General Mohammed I. Alkali (Rtd), who was declared missing since Monday, September 3, to a pond in the community..
Alkali retired from service as the Chief of Administration, Nigerian Army Headquarters, but a few weeks later he was declared missing.
He was said to be travelling from Abuja to Bauchi and somewhere around Jos his family lost contact with him.
Investigation, according to the military, then revealed that the general could have been killed and dumped in a deep pond in Jos thereby making them to search the pond for him.
However, the women at Dura community, dressed in black and some half naked, began a violent protest against the military, leading to clashes as they threw stones at the military personnel while others dared them to shoot and even attempted to wrest weapons from their hands.
The women said their anger was that the military has put a siege on their community since they suspected that the general was in the pond, and again that their people had been repeatedly killed without the military protecting them.
But their major reason for protesting the search by the military was due to a superstitious belief that the pond must not be disturbed in any way because it would lead to calamity for them, including mysterious deaths and other misfortunes.
Mary Yakubu, who spoke on behalf of the women, said since the days of their forefathers, no one had tampered with the water, and that it was a taboo to tamper with it because their husbands and children would die mysteriously.
She said they did not know peace since the military suspected that the retired general was thrown into the pond with his car.
According to her, the people have been harassed, threatened and even shot at.
Yakubu said when suspected Fulani herdsmen attacked the community several times and killed innocent persons the military did not take serious action.
Place this code at the end of your tag: