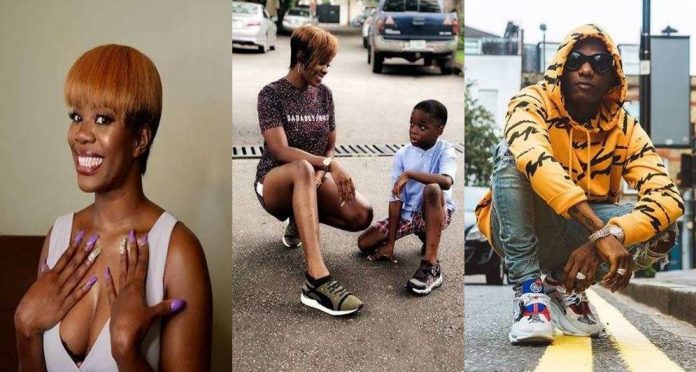 Yesterday, Wizkid's first baby mama, Shola Ogudu, took to her Instagram to shared several screenshots of her chat with her baby daddy as she aired out her frustrations co-parenting their 7-years-old son, Boluwatife.
Shola who is 27 years old accused Wizkid of not being the best father to their child amongst other accusations.
Here are the highlights of the very lengthy claims she shared Via Instagram;
She claims Wizkid first denied paternity of Tife after his birth, dodging taking a test for over a year.
Wizkid sent Tife back to her after a weekend he spent with him with a 'Weed Crusher' in his bag.
Shola also said Wizkid gave their son a customized 'Starboy' chain to pose with on social media, and then took it back after he posted the photo.
She said Wizkid once suspect his son might be "gay", and made the little boy to fiddle the breasts and butts of grown women to be sure he wasn't.
Shola said Wizzy also allegedly banned her not to post pictures of Boluwatife online.
Wizkid asked Shola to turn down a $3 million modelling contract for a bank which she got for her son.
He allegedly RARELY supports her financially, just makes "promises."
After Shola snagged a job at the Italian Embassy, she asked Wizkid to consent to the child to get passports & visa travel with her to work, and he had a lukewarm attitude about it.
Wizkid also allegedly "spends money on drugs" and not for a good school for his son, which she says she pays for mostly.