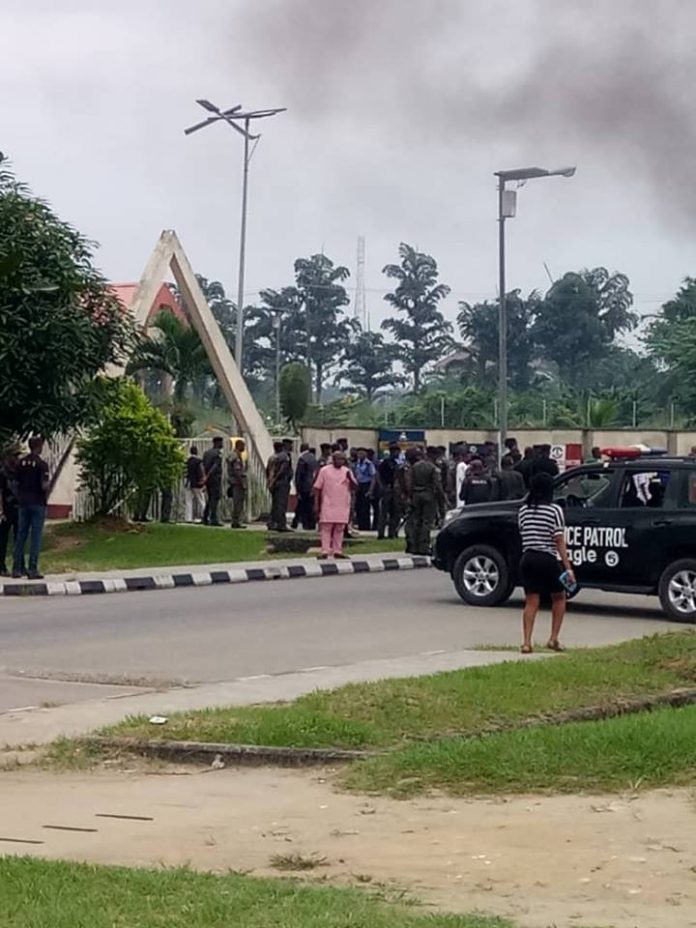 According to fresh reports, five recently sacked lawmakers have stormed the House of Assembly with heavily armed policemen and thugs.
It is alleged that the sacked lawmakers have a mace and are set to impeach the speaker, Rt. Hon. (Barr) Onofiok Luke and also suspend some members of the assembly and commence proceedings to impeach the governor of the state, Udom Emmanuel.
While normal daily activities were ongoing in the Akwa Ibom state House of Assembly this morning, the sacked former lawmakers were reportedly escorted into the complex by men of the Nigerian Police.
On Monday, November 26, that the expelled lawmakers had vowed that no plenary would hold at the House of Assembly until they get justice.
Meanwhile, one of the expelled members, Victor Udofia, has however, denied reports that the aggrieved lawmakers were planning to begin impeachment proceedings against Governor Udom Emmanuel.
The legislator representing Ikono state constituency said the purported impeachment report was a plot to tarnish their reputation for defecting to the All Progressives Congress (APC).
All entrances to the complex had been barricaded right from the morning of Tuesday, November 20. They are, however, opened as the police vacated the premises on Friday, November 23.
Reports have it that the police trucks and the anti-riot officers that had barricaded the road leading to the complex were no longer there in compliance with the order.