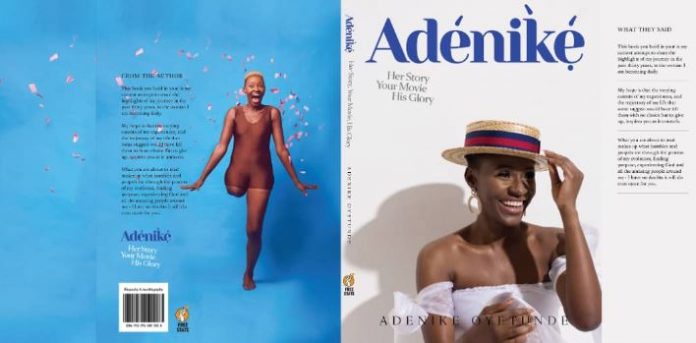 Broadcaster, lawyer and social worker, Adenike Oyetunde, is pleased to announce the launch of her autobiography, : Adénìké: Your Story, Your Movie, His Glory, on Sunday January 6, 2019, in Lagos at Harbour Point, 4 Wilmot Point Road, Victoria Island Lagos.
The book, which chronicles her journey through self-rediscovery, also contains tales about strength, hope, faith, charity found in the least expected places, the role of present parents and finding God through one's continued process to evolve.
On that same day, Adenike Oyetunde also launched her non for profit organization, Amputees United Initiative.
According to Adenike Oyetunde, who is the founding trustee of AUI, the initiative was birthed from a place of personal journey to provide a safe haven for amputees, fresh and old, where journeys will be shared and experience heard, to strengthen each other, as these special humans continue to clamor for an inclusive society geared towards preparing Lagos and Nigeria towards the United Nations path to achieving an inclusive society in line with SDG 17.
See photos from her book launch below:
Pastor Edwards
Senator Ganiyu Olanrewaju Solomon during the launch
Adenike's parents
Amputees United Initiative also creates a platform for persons with special needs to discuss matters affecting them specifically; ranging from educational needs, medical needs and infrastructural needs.
Adenike Oyetunde's ultimate goal with the initiative is to create a facility encompassing amenities to promote adaptive lifestyle (learning to use prosthetic limbs), establish recreational centres that are suitable for people with special needs, a gym specifically for PWDs; equipped with cycling and learning to drive.
Her hope is that you can attend, partner and help promote the book, as she desires it gets into as many hands as possible. Adenike is overtly excited for your support.
# AdénìkéTheBook is the official hashtag and her handles are @adenikeoyetunde on Instagram and @denikeoyetunde on twitter and Adenike Oyetunde on Facebook