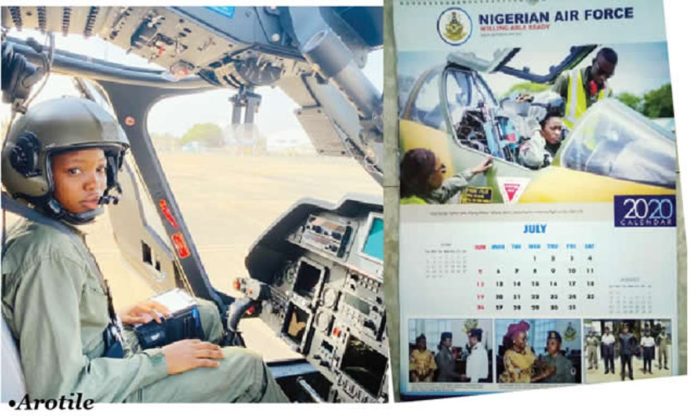 The Nigerian Air Force will today (Sunday) release the details of the outcome of its preliminary investigation into the death of Flying Officer Tolulope Arotile, Nigeria's first female combat helicopter pilot who died on Tuesday.
The NAF Director of Public Relations and Information, Air Commodore Ibikunle Daramola, stated this on Saturday in a release titled, 'Preliminary Investigation Report on the death of Flying Officer Tolulope Arotile,' adding that members of the press were invited.
Our correspondent had reported on Saturday that the NAF was investigating the circumstances surrounding the death of Arotile at the NAF Base in Kaduna State, and two suspects had been held.
It was also reported that the late officer would be buried in full military honours at the National Military Cemetery, Abuja, on Thursday, July 23.
On Saturday, in a release, NAF's spokesperson, Daramola, said, "The NAF will tomorrow (Sunday), July 19, hold a press conference to give details on the outcome of its preliminary investigation into the circumstances surrounding the death of Flying Officer Tolulope Arotile which occurred on July 14.
"The event will take place at the Air Marshal MD Umar Blue Room at Headquarters NAF Abuja at 2pm. Accordingly, members of the press are please invited to cover the event."
Sunday PUNCH gathered that Arotile in same month of July when she died was the personality of the month on NAF Official 2020 Calendar alongside Kafayat Sanni winged as the first female fighter pilot.
The Arotile's photos used in the calendar were taken on Tuesday, October 15, 2019, during a colourful winging ceremony at the Air Marshal MD Umar Blue Conference Room at the NAF Headquarters, Abuja.
The conference room was parked to the brim; behind Arotile on the line of combat pilots sat her proud parents who had travelled down to Abuja from Lokoja, Kogi State.
It was the day the Nigerian Air Force inducted 13 new fighter pilots including two females who graduated from a flying training in the United States of America and South Africa – Arotile was one of the two, holding an intimidating record of being the first female combat helicopter pilot.
Arotile, full of smiles, was decorated by the Chief of the Air Staff, Air Marshal Sadique Abubakar, and assisted by the Minister of Women Affairs and Social Development, Mrs Pauline Tallen. She was trained at the Starlite International Training Academy, South Africa for 14 months.
After her winging, her salute was exceptional and firm to the admiration of those in the conference room, who heralded her with applause for holding an enviable record.
The elated air chief had remarked, "Out of the 13 pilots to be winged are two female Regular Combatant officers. Not only are they female officers, but they are also outstanding aviators. While one is the first female fighter pilot in the 55 years history of the NAF, the second one is the first female combat helicopter pilot in the history of the service."
Tallen said the new pilots would contribute their quota towards eliminating the "current security challenges in the North-East and North-West as well as communal clashes, kidnapping and banditry."
News of Arotile's death on Tuesday provoked calls for an investigation into her death even as many continue to pay condolence visits to her bereaved parents.
The air force said the female officer sustained head injuries from the accident when she was "inadvertently hit by the reversing vehicle of an excited former Air Force Secondary School classmate while trying to greet her."
Arotile, a member of the Nigeria Defence Academy Regular Course 64, hailed from Iffe in the Ijumu Local Government Area of Kogi State.
Eight months earlier, on October 15, 2019, she had been winged as the first female combat helicopter pilot after completing her flying training in South Africa.
Nigerians on social media particularly have demanded for a probe into her death, with Yoruba's socio-cultural organisation, Afenifere, calling for a Coroner's inquest into the death.
The elder sister, Damilola Adegboye, had also said in an interview that the family would not believe hearsays but wanted to see the matter adequately investigated.
"I would want them to investigate thoroughly. Surprisingly, the Chief of the Air Staff was at the hospital to confirm the incident because he was the one that decorated her. He was there at the hospital to see for himself. I just hope that they get to give us a response soonest," Adegboye had said.
Meanwhile, some military sources have claimed that the ex-classmate who knocked down Arotile is a civilian who had no valid driving papers.
The sources said to have spoken with Channels Television on Saturday said the civilian driver, accompanied by his friends, visited his relations at the air force base located in the Mando area of Kaduna metropolis on the day of the incident.
They added that upon interrogation, the driver and former classmate, who is now in custody with another occupant of the vehicle, has no valid driving licence.
Arotile in her lifetime craved to be a successful military officer and to give her best to the service of the fatherland before her reported demise.
In an interview with journalists in Abuja last October, she said, "I was admitted into NDA on September 22, 2012, and I was commissioned into the NAF on September 16, 2017. Being a military personnel has been a long-time ambition. The carriage and what they stand for is simply exceptional.
"I feel very privileged and very proud. I am happy that my success has brought me to this point. And I am very grateful to the Nigerian Air Force for the opportunity to have this title. And I am looking forward to give my best to the service."
For Arotile's father, Akintunde, the late combat pilot was a special child who improved greatly on herself.
Speaking in their home in Lokoja, the father said, "That day, I called her in the morning, and the mother called her in the afternoon. There was no premonition of death. Talking about Tolu in the past tense, for me, it is more than a crushing blow. This Tolu is like a child that is gifted by God, and she worked very hard to even improve on herself. She does not go out, apart from her job, church and pastor so and so.
"There were things she did and I wondered, at your age? She loved her job and she was full of prayer. She did only three things – her work, church or she was praying. Even before they took her dead body from under that car that reversed, Tolu was already reigning in heaven with the Holy Father. That is my only consolation – that Tolu is with God."
The mother in an emotionally laden voice added that but for Arotile's determination, she had wanted her to stop going to the Nigerian Defence Academy when she saw her in a pitiable condition years ago.
She said, "She was a prayer warrior. She had known God right from her birth. I thank God for giving Tolu to me. She did not promise that she would go so soon but I give glory to God for her life. Even when she was passing through all this, she was strong. Her first year in the academy; she came back home with marks all over her body. I went to pick Tolu and I could not recognise her on the main road where she was standing.
"We newly parked to Lokoja at that time. I called her line and she said, 'mummy, look at me, I am wearing a suit.' It was when I moved close to her that I recognised her. I said, "Tolu, you are not going back to the academy; enough is enough. Must you die because you want to belong to the NDA? She said, "Mummy if you love me, pray for me." I said 'okay.' So we were going day by day and God is lifting her up even more than our expectations.
"A few weeks ago, she asked me, "Mummy, how is your health? She said, "Mummy I always pray for you and I know you are going to live and eat the fruit of your labour. Mummy, I am going to take care of you. You will not suffer.' I said amen. So I know Tolu is with her Father in heaven."
PUNCH