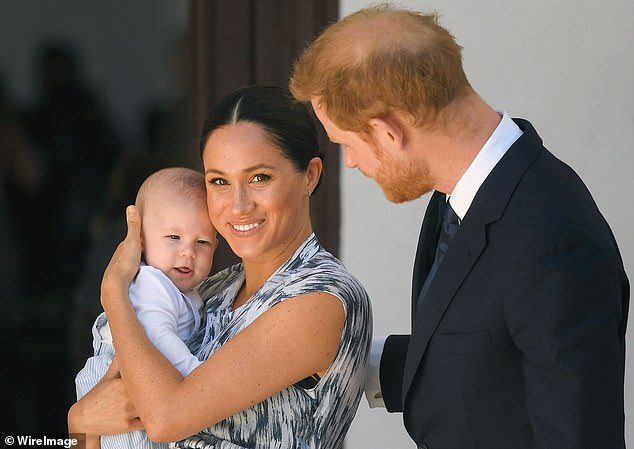 Prince Harry and Meghan Markle have filed a lawsuit in California accusing unnamed paparazzi photographers of taking 'illegal' drone pictures of their son Archie.
The lawsuit filed on Thursday alleges 'serial intrusions' into 14-month old Archie's privacy at the Los Angeles home where Harry and Meghan have been living since March.
The couple say they are taking legal action to protect Archie from a 'manufactured feeding frenzy' after claiming that the paparazzi had flown helicopters over their home and cut holes in a fence to take pictures.
'The Duke and Duchess of Sussex are filing this lawsuit to protect their young son's right to privacy in their home without intrusion by photographers, and to uncover and stop those who seek to profit from these illegal actions,' their attorney said.
Meghan, Harry and their one-year-old son Archie have been staying at Hollywood producer Tyler Perry's $18 million mega-mansion in the exclusive neighborhood of Beverly Ridge since moving to LA in March.
In their lawsuit, they say they took considerable privacy measures at Tyler's mansion, including the erection of a large mesh fence around the property to guard against telephoto lenses.
But they can't protect against drones which are being flown 'a mere 20 feet above the house as often as three times a day'.
Helicopters have also flown over the residence as early as 5.30am and as late as 7pm, the legal papers allege, which had the effect of 'waking neighbours and their son, day after day'.
'Every individual and family member in California is guaranteed by law the right to privacy in their home. No drones, helicopters or telephoto lenses can take away that right,' said the couple's lawyer Michael Kump.