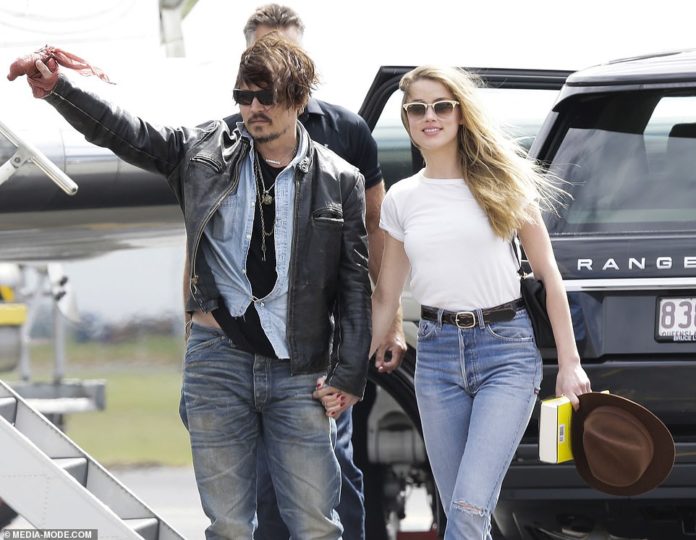 A court has heard a recording of Johnny Depp appearing to howl 'like an animal' after he attacked Amber Heard in cocaine and alcohol-fuelled tirade on a plane over accusations that she cheated on him with 'rapist' James Franco. 
On the second day of Mr Depp's blockbuster libel trial in London, he was asked about 'the Boston plane incident' in May 2014, where he is alleged to have attacked Ms Heard on a flight from Boston to LA after consuming cocaine, whisky, pills and champagne before passing out in the plane's toilet.
He denied screaming about how Heard 'liked getting f****d on set' and making 'vulgar' comments while grilling her about sleeping with Adderall Diaries co-star Franco in 2014.
The Sun's lawyer, Sasha Wass QC, said Mr Depp made 'vulgar references to [Ms Heard's] genitalia' and called her a 'go-getter sl**' in front of crew members on a flight from Boston to LA.
He denied having launched the attack, commenting: 'That's quite a stretch of her imagination.'
A recording of Mr Depp apparently howling during the flight was also played during the afternoon session.
Ms Wass QC put it to Mr Depp that it was him in the recording, but the actor replied: 'I had drunk alcohol prior on the flight but my behaviour was not as alleged … I was drawing art sketches in my notebook.'
Afterwards, Ms Wass also read out a text sent by Mr Depp to his friend Paul Bettany on May 30 2014, which read: 'I'm going to properly stop the booze thing, darling.
'Drank all night before I picked Amber up to fly to LA this past Sunday. Ugly mate. No food for days. Powders. Half a bottle of whisky. A thousand red bull and vodkas, pills, 2 bottles of champers on plane and what do you get?'
Mr Depp claimed that he had been concerned about Franco because Ms Heard had described him as 'creepy and rapey' when they starred alongside one another in stoner comedy, Pineapple Express.
He appeared to state that Ms Heard had told him she had to 'run from Franco's advances' during filming – claims which Ms Wass branded as 'made up on the spot.'
Several women have accused Franco of sexual abuse and harrassment, though the actor has denied the allegations.