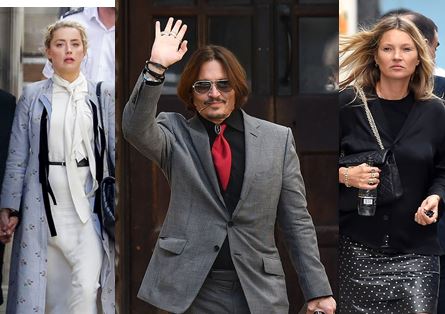 Amber Heard today made the sensational claim that Johnny Depp pushed British supermodel Kate Moss down the stairs while they dated in the 1990s.
Ms Heard made the new allegation in the High Court and claims she punched him during an incident in March 2015 as she feared that he might do the same to her sister Whitney.
Eleanor Laws QC, Depp's lawyer,asked her about being violent towards Depp during the fight, Heard said: 'He pushed Kate Moss down the stairs, I heard this from two people, and this was fresh in my mind.
'I reacted in defence of my sister. I had for years been Johnny's punch bag but for years I never hit him. It was the first time after all these years that I struck him back.'
Ms Laws accused Heard of 'adding' the Kate Moss incident during her evidence as she had never mentioned it before.
Ms Laws added: 'You have added the detail about Kate Moss. It's not contained in any document. You did not mention anything about Kate Moss being in your mind. You are just making this up as you go along. This is the first time that you have mentioned it.'
The court was then played an excerpt of Heard's deposition in August 2016, in which she talks about the March 2015 incident. Laws repeated her allegation that there is no mention of Kate Moss.