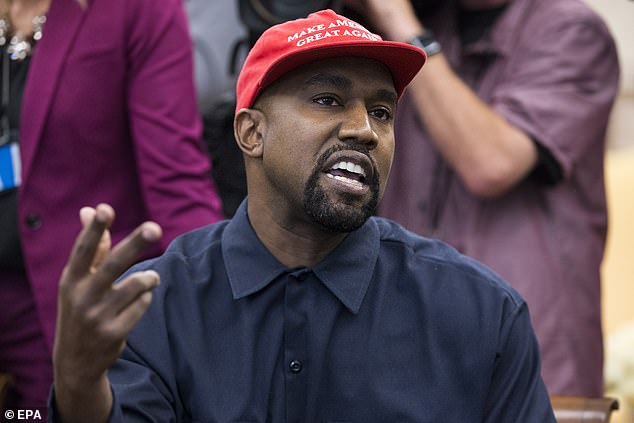 He has been very open about his bipolar disorder and Kanye West is reportedly in the middle of a serious episode, causing his family to be very concerned.
The musician, 43, took part in a controversial Forbes interview on Wednesday in which he slammed Planned Parenthood as an organization run by 'white supremacists to do the Devil's work.'
TMZ report that Kanye, who is running for president, gets a serious episode around once a year and this one has resulted in his decision-making being impacted.
The site reports: 'Kanye announced he's running for president via Twitter over the weekend, and also did a rambling interview with Forbes … which drew harsh criticism, confusion and concern.
'Our sources say his family and those close to him are worried, but they believe things will stabilize as they have in the past.
'The problem here is that Kanye's proclamations are causing problems.'
MailOnline has contacted a spokesperson for Kanye West for comment.
Kanye's Forbes interview saw him drop his support for Trump, reveal his political party is called The Birthday Party and discuss anti-vaccination views.'
The performer told David Letterman that he feels discriminated against because of his mental health issues.
Kanye said: 'I can just tell you what I'm feeling at the time. I feel a heightened connection with the universe when I'm ramping up.
'It's a health issue, this is a sprained brain, like a sprained ankle. When someone has a sprained ankle, you're not going to push on him more. With us, once our brain gets to a point of spraining, people do everything to make it worse,
'They do everything possible. They got us to that point and they do everything to make it worse.'
Kanye can sometimes experience psychosis during periods of severe mania, in which he feels hyper-paranoia and believes everyone is out to get him.
He described the episodes to Letterman in detail.
In 2018, Kanye revealed he was not taking medication for bipolar because it 'stifles his creativity,' a year after his diagnosis.