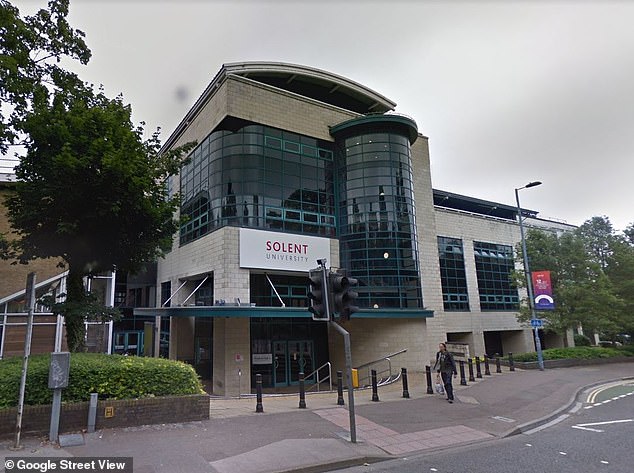 A university lecturer was sacked after claiming 'Jewish people are the cleverest in the world' and 'Germans are good engineers'.
Stephen Lamonby claimed his comments were not racist or offensive because he was using 'positive stereotypes'.
The 73-year-old also said he 'had a soft spot' for young black men because they are underprivileged as 'many are without fathers' and so 'need all the help they can get'.
An employment tribunal heard the controversial remarks were made during a meeting with Dr Janet Bonar, his course leader at Solent University in Southampton, Hampshire.
The lecturer, who admits he does not know if his appeal will be successful, said: 'It's got so sensitive in these times and you can't ask anything or say anything.
'I said to my students that Germans are good at engineering and [the university] think it's racism.
'The Japanese and the Americans are all good engineers in my opinion too. We are over-sensitive now.
'I think lots of people would agree with what I say but the politically correct people won't.'
Mr Lamonby made similar comments about people from Eastern Europe, specifically citing Lithuanians.
An employment tribunal heard the remarks were made during a meeting with Dr Janet Bonar in the the university canteen in March 2019.
During the meeting Mr Lamonby told her that in his experience people from different countries had become good at certain things due to 'high exposure'.
Following the ruling, Mr Lamonby said he would be appealing, claiming he was a victim of a 'woke' culture and that universities are 'totally obsessed with racism'.
He said: 'I think the judgement came down to the fact the judge was a woke judge.'
He added: 'You can't make any comments [in universities] now because they are totally obsessed with racism and to talk about Jews in the context of racism is crazy because they are not even a race, they are an ethnicity.
'Free speech is totally dead in universities.'
He added: 'It was one of those off the cuff remarks and I know these days people are worried about Muslim terrorists so perhaps I should not have said it.'
Mr Lamonby, who had worked at Solent as a part-time associate lecturer for six years and teaches classes twice a week, claimed that 'Germans are good at engineering' because they are 'exposed to a high level of industry from an early stage in their lives'.