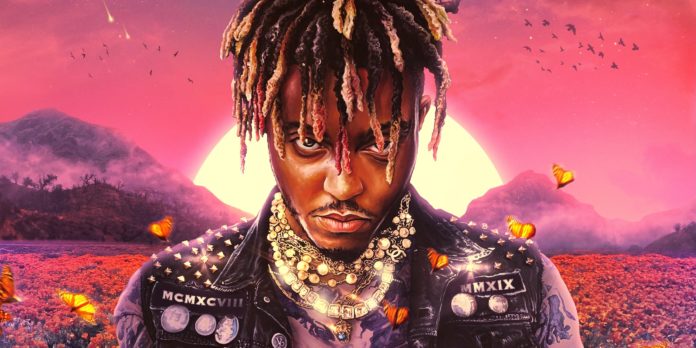 Legends Never Die, the first posthumous album from Chicago rapper Juice WRLD, has arrived. The new LP features "Life's a Mess", as well as "Righteous," "Come & Go"and "Tell Me U Luv Me".
Listen to Legends Never Die below (via Grade A/Interscope).
In addition to "Come & Go," Marshmello appears on Juice WRLD's "Hate the Other Side" along with Polo G and Kid Laroi. Take a Daytrip co-produced "Bad Energy" with Blake Slatkin, and Skrillex co-produced "Man of the Year." Dr. Luke, who is in the midst of a long-running legal battle with Kesha, is credited as a lyricist and composer on "Wishing Well." The album is bookended by spoken-word clips from Juice WRLD, with the final track titled "Juice WRLD Speaks From Heaven – Outro."
Juice WRLD died at the age of 21 in December 2019. His death was ruled as an accidental overdose of Oxycodone and codeine toxicity. Following Juice WRLD's death, Drake, Chance the Rapper, Lil Uzi Vert, Meek Mill, the Weeknd, Lil Yachty, Lil Peep's estate, Juicy J, and countless other artists paid tribute to the late rapper, writing words of remembrance on social media.
Legends Never Die. 7/10. #LLJW ? pic.twitter.com/maWTMftqho

— . (@JuiceWorlddd) July 6, 2020