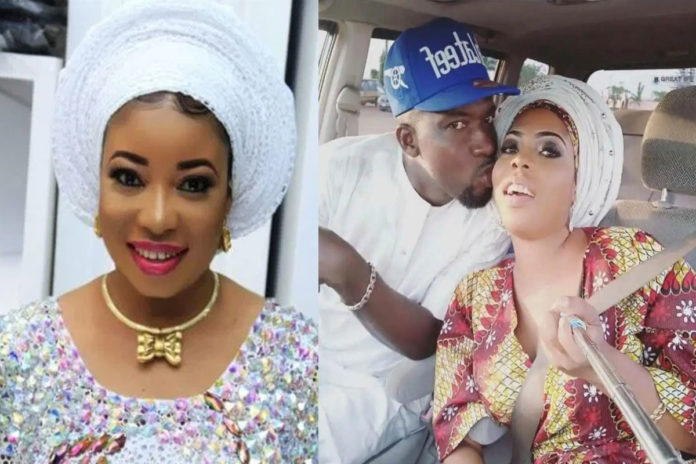 New reports indicate that newly married Nollywood actress, Lizzy Anjorin's wedded husband, Lateef Lawal was married to 5 different women before he married her.
Different social media users shared photos of Lateef Lawal's alleged wives and kids which they revealed they were ditched by him to marry Liz.
They alleged that one of Lateel Lawal's wife gave birth to his child a few months ago.
A Facebook identified as Ade Williams took to his her page to share screenshots of the Instagram page belonging to Folatinubu Lawal.
EEEEEEOOOOOO HERE IS THE REAL AND LEGAL WIFE OF LIZZY NEW FIND LOVE, THIS LADY COULD NOT SLEEP FOR DAYS NOW….ALHAJA, HIDING UNDER RELIGIOUS SAYINGS MUSLIMS MEN ARE ALLOWED TO MARRY AS MANY AS THEY CAN…ALHAJA WOSIWOSI LEAVE OUR SISTER HUSBAND ALONE IN PEACE"
While the second Facebook user, Toromagbe Dinjadinja shared photos of his other wives and wrote
"Meet Lateef Adegboyega Lawal's wives…why why did you abandon your wives….your last wife only had a baby 3 months ago…..Alhaja bling bling stole Lateef"
"14yrs with no flaws…saying YES is like paying back 1% of your 1001 good deed to me and my late mother….Even if I become richest lady in the world, I think I need to give glory back to a selfless man that stood with 100% loyalty or any element of betrayal.
The car you gave me money to buy was stolen by a man I chose over you, but you never bothered. You gave me your own personal car just to cover my shame in public, you were taking bike around Lagos, you had accident on bike you refuse to tell me just for me to keep the car….Kudos to most kind hearted man on earth."
See the photos below: