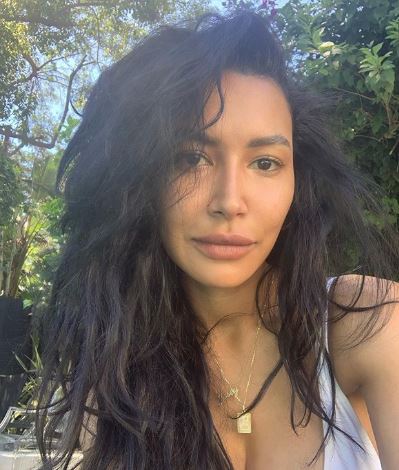 Missing Naya Rivera's 4- year old son told cops that his mum 'jumped in the lake and didn't come back up and search resumed on Thursday morning, a day after she went missing on a California lake.
The Glee star and her son Josey rented a pontoon boat on Lake Piru, which is 60 miles from Rivera's Los Angeles home and around 20 miles from where she grew up in Valencia, on Wednesday afternoon. They were alone and their car was parked nearby.
Three hours after they took the boat out, another boater saw their pontoon drifting. When they approached it,  they found Josey on board, asleep, but there was no sign of Rivera.
Josey was wearing his life-vest but an adult life-vest was found on the boat, suggesting Rivera was not wearing hers.
The boy later told investigators that he climbed back on the boat and his mother did not, but the circumstances are unclear and cops say it is 'challenging' to interrogate a toddler. According to TMZ, the boy says his mother 'jumped in the water and didn't come back up'.
Rivera had shared a poignant picture of herself and Josey just a day before her disappearance, with the caption 'Just the two of us', in a post which has since attracted an outpouring of sympathy and prayers.
In recent weeks, her social media has been full of posts of the pair at home. Last week, she shared a cryptic selfie about appreciating life, writing: 'no matter the year, circumstance, or strifes everyday you're alive is a blessing. make the most of today and every day you are given. tomorrow is not promised.'
Divers and helicopters were scouring the reservoir until darkness fell but no trace of Rivera has been found.
On Thursday morning, they returned to the lake at daybreak. It is closed to the public while the search for her continues.
At least eight other people have drowned in the lake since 1994, including a father who died in 2008 after saving his daughter who'd fallen into the water. He was able to get her back onto their boat before it drifted away and he died.