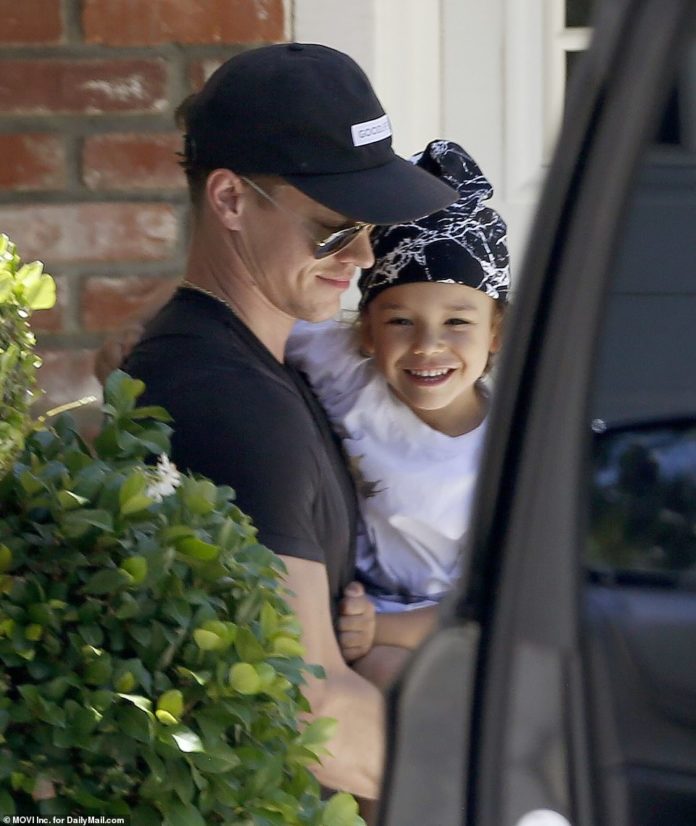 Naya Rivera's ex-husband Ryan Dorsey is seen for the first time comforting his young son just a day after the Glee actress vanished from a California lake where she'd been boating with their four-year-old son.
Doting dad Ryan Dorsey was spotted holding Josey in his arms as they left the home of Naya's sister, model Nickayla Rivera in Valencia, California on Thursday.
Dorsey, who has joint custody of his son after he divorced Glee star Naya in June 2018, was visibly upset earlier in the day as he woke up to the reality of what had happened.
Answering the door Dorsey, 36, was too distraught to answer any questions, simply saying he had to care for his young son. Friends said the actor had 'no idea' his ex was taking Josey to Lake Piru, near Santa Clarita on Wednesday.
Dorsey's housemate in Los Angeles told DailyMail.com that Dorsey immediately headed to the popular tourist spot as soon as he was notified that their son was found alone on a pontoon boat.
The housemate, who asked not to be named, said: 'Ryan headed up there as soon as their son was found to look after him. He was gone by the time I got home Wednesday. '
Dorsey, who has joint custody of his son after he divorced Glee star Naya in June 2018, was visibly upset earlier in the day as he woke up to the reality of what had happened. The couple had married in 2014