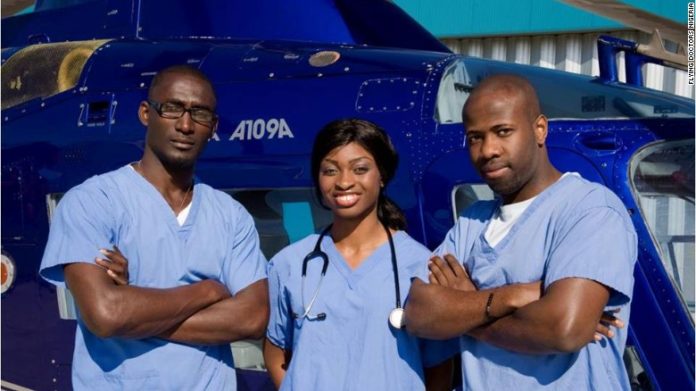 The 58 Nigerian doctors who were prevented by the Nigeria Immigration Service from boarding a plane to the United Kingdom were expected to earn between £51,384 (N25.1m) and £98,112 (N47.9m) per year depending on the experience they have.
This is apart from the special allowances and other perks such as free meals they were expected to get on the job.
This is according to the advertorial by NES Health Care, a UK-based firm that helps over 150 private hospitals to recruit doctors from all over the world.
The advertorial reads in part, "Are you a doctor with ICU (Intensive Care Unit) and anaesthesia experience, looking for a better work/life balance? At NES Healthcare we can offer you this with one of our ICU RMO positions.
"You will be working in a private Hospital group, and we have various locations around the UK. The rotation is one week on duty then one week off + accommodation and meals are provided free of charge during your on duty week.
"To apply you will need a minimum of three years post-graduate experience and have 18+ months of ICU and Anaesthesia experience. Salary is from £51,384 to £98,112 dependent on experience. Contract is for a minimum of one year. You will need to hold full GMC Registration with a licence to practice, or be eligible to apply."
The firm states that its aim is to successfully address the acute shortage of doctors in the UK and to do so in a way that simultaneously reduces overall expenditure.
The PUNCH learnt that hundreds of Nigerian doctors had applied for the jobs advertised by NES Health Care as far back as January. They had written the exams and were interviewed via Skype.
Many of them had also been offered employment in the UK and had processed their necessary documents through the Medical and Dental Council of Nigeria and obtained security clearance from the Nigeria Police Force attesting to the fact that they had no criminal record.
However, the last step to their emigration which was obtaining a UK visa, was not achieved because the UK High Commission in Nigeria had remained closed since April due to the Covid-19 pandemic.