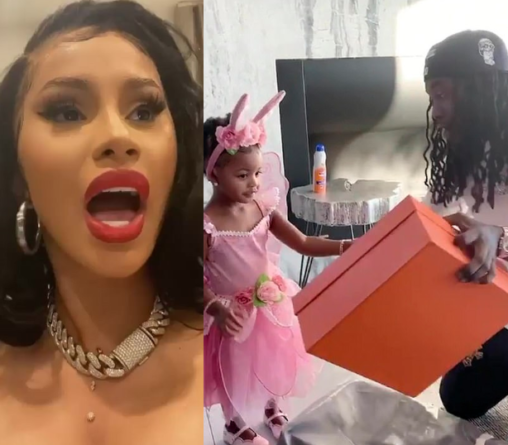 Cardi B has defended her husband Offset after he came under fire for gifting their daughter Kulture a Birkin bag worth N6million on her 2nd birthday.
After Offset shared a video of him presenting the pricey bag to Kulture, 2, people commented stating that the child didn't appreciate the expensive gift and would have preferred a doll.
Later, Cardi took to her Instagram Story to address the the criticism.
The 27-year-old said: "Yea, kids only care about toys and candy. But the thing is, kids also go outside. Kids go to restaurants, kids go to fancy places. Celebrity kids, they go do red carpets.
"And if I'm fly, and daddy's fly, then so is the kid. If I'm wearing Cha-nay-nay, my kid's having the same thing. It's not up to what the kids like. If it was the kids, they'd be outside in diapers. 
"No, cause if I was looking like a bad bh, expensive bh, and I had my kid looking like a bum bum, then y'all would be talking s***. So, I'm not mad that daddy bought baby a Birkin. She gonna match mommy."

Our kids gotta March the fly . pic.twitter.com/o1P0eY8XGS

— iamcardib (@iamcardib) July 16, 2020
Do you think this is too much for a child or is it as based on someone's financial capacity that they see things as too much for a child?