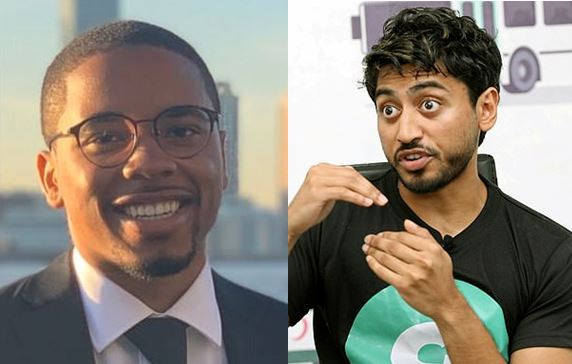 The personal assistant of Fahim Saleh, the tech entrepreneur who was found decapitated and dismembered in his $2.2million Manhattan apartment, has been arrested.
Tyrese Devon Haspil, 21, was arrested early Friday over the grisly murder of the 33-year-old in his Lower East Side apartment earlier this week, the New York Times reported, citing two officials briefed on the matter.
Haspil, who worked as Saleh's personal assistant, is expected to be charged with second degree murder and other counts, the officials said.
Detectives believe Saleh was killed after he found out his assistant had stolen tens of thousands of dollars from him, sources told the outlet. The slaying occurred even after Saleh set up a payment plan for Haspil to repay the money he allegedly stole instead of reporting him to authorities.
Authorities started investigating Haspil after finding messages in which Saleh accused Haspil of stealing the money.
Police, who have not yet publicly announced Haspil's arrest, believe Saleh was killed on Monday, which is a day before his body was found by his sister when she went to his apartment.
Investigators believe the killer returned to Saleh's apartment on Tuesday to clean up and dismember the tech entrepreneur's body, but fled through a back exit after being interrupted by the victim's sister.
When Saleh's body was discovered, it had been decapitated and dismembered. His torso was found in the corner of his living room, with his head, arms, and legs separated into plastic bags.
An electric saw that was still plugged in, a vacuum cleaner and cleaning products were found nearby.
Autopsy results released on Thursday revealed that Saleh was tasered and then stabbed multiple times before being dismembered.
Authorities say Haspil used Saleh's credit card to pay for a car to take him to Home Depot to purchase cleaning supplies. Sources told the NY Daily News that he also purchased the saw using the credit card.
A prong from the taser had a serial number that also allegedly linked Haspil to the scene, the sources said.
Saleh had last been seen alive just over 25 hours prior to his body being discovered.
Surveillance footage from inside the 265 East Houston apartment building showed Saleh walking into an elevator at about 1.40pm on Monday with the assailant – dressed in a black suit, tie, mask and holding a large bag – following closely behind him.
Investigators say Saleh, who was dressed in shorts and a t-shirt, appeared suspicious when the masked-man fumbled with the elevator, which requires the use of a key fob to operate.
As the doors opened directly in Saleh's full-floor apartment on the seventh-floor, words were said to be exchanged between the pair before the tech guru collapsed to the ground.
A struggle then ensured between Saleh and the assailant but the elevator doors closed, obscuring the camera's view of what happened next.
When the killer returned the following day to clean up, police believe the masked butcher may have been interrupted by Saleh's sister when she stopped by her brother's apartment to check in on him, having not seen or heard from him in more than a day.
His sister like pressed the buzzer of Saleh's apartment before entering the building, alerting the killer and forcing him to abandon his efforts to dispose of the remains.
The killer is believed to have fled the building through a fire escape while his victim's sibling rode the elevator up, police said.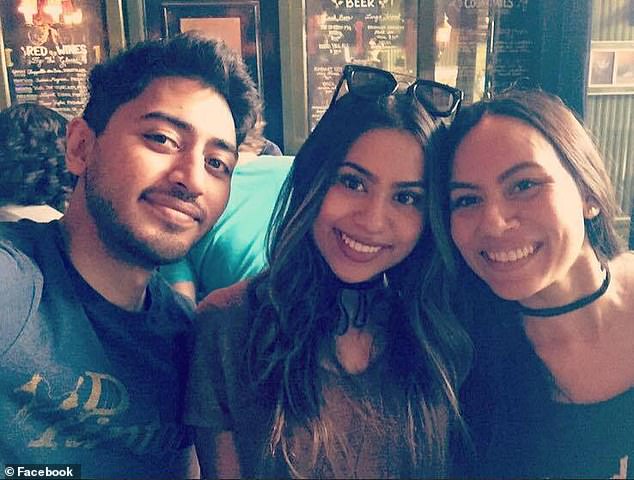 Fahem with his two sisters
Saleh, who was born in Saudi Arabia but grew up in New York in a Bengali family, bought his luxury apartment for $2.25 million last year, records show.
Police sources said initially they believed the murder was financially motivated and likely the fatal result of a soured business deal.
Prior to the personal assistant's arrest, investigators had been looking into Saleh's business affairs for any possible motives or suspects.
Saleh was the chief executive officer of a ride-hailing motorcycle startup called Gokada that began operating in Nigeria in 2018.
The firm, Gokada, recently faced severe setbacks after being banned earlier this year by the Nigerian government. It was forced to lay off staff and pivot from being a ride-sharing service to a delivery courier.
The ban came at a difficult moment for Gokada which had just raised $5.3 million in funding from Rise Capital, a Silicon Valley-based venture capital firm, in May 2019.