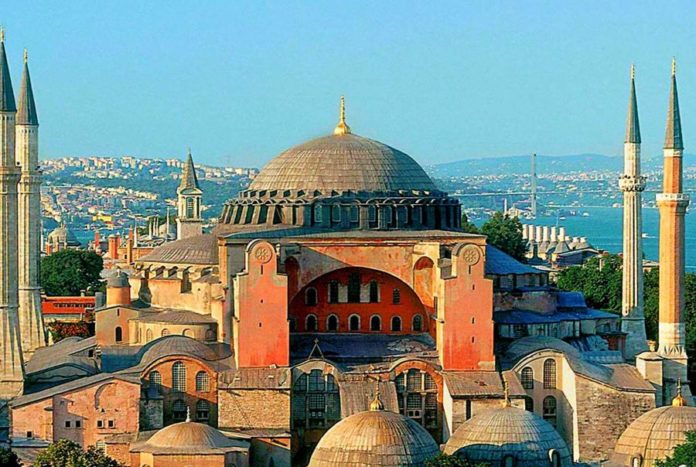 President Recep Tayyip Erdogan declared Istanbul's iconic Hagia Sophia open to Muslim worship on Friday after a top court ruled the building's conversion to a museum by modern Turkey's founding statesman was illegal.
Erdogan made his announcement, just an hour after the court ruling was revealed, despite international warnings not to change the status of the nearly 1,500-year-old monument, revered by Christians and Muslims alike.
"The decision was taken to hand over the management of the Ayasofya Mosque … to the Religious Affairs Directorate and open it for worship," the decision signed by Erdogan said.
The UNESCO World Heritage Site in Istanbul, a magnet for tourists worldwide, was first constructed as a cathedral in the Christian Byzantine Empire but was converted into a mosque after the Ottoman conquest of Constantinople in 1453.
Greece swiftly condemned the move by Muslim-majority Turkey as a provocation while the United States also expressed disappointment.
"Greece condemns most firmly" the decision, said Prime Minister Kyriakos Mitsotakis, saying it "does not only impact relations between Greece and Turkey but also the latter's relations with the European Union, UNESCO and the global community as a whole."
For Greek Culture Minister Lina Mendoni, "the nationalism displayed by Erdogan… takes his country back six centuries."
The Russian Orthodox Church was equally scathing.
"The concerns of millions of Christians were not heard," Church spokesman Vladimir Legoida told Interfax news agency.
The decision "shows that all pleas regarding the need to handle the situation extremely delicately were ignored," he said.
UNESCO chief Audrey Azoulay said she "deeply regrets" the decision made without prior dialogue with the UN's cultural agency.