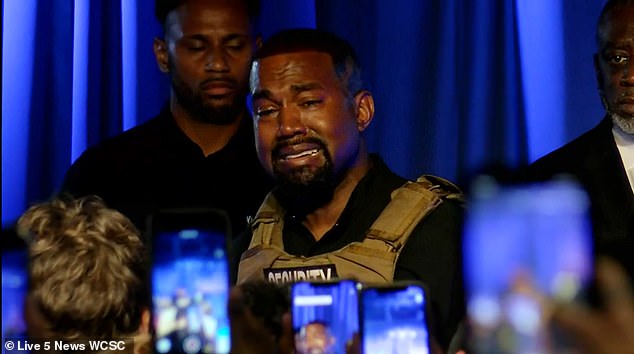 Kanye West broke down in tears during a wild rally to launch his presidential campaign, revealing that Kim Kardashian wanted to have an abortion but that God came to him and told him it was not right.
Two weeks after announcing his unlikely bid for president, Kanye West held his first campaign event in South Carolina on Sunday.
'I don't give a f*** if I win the presidency or not,' he declared.
'There are homeless people in front of the Gucci store.
'I care about these things. And I am in service of God.
'God has a plan for us, as his people, to be finally free.'
The 43-year-old rapper's rally was held at the Exquis Event Center in North Charleston for registered guests only, according to a campaign document obtained by Politico.
'Politics, America, Trump, Biden, nor Kanye West can free us,' he told the crowd.
'The only thing that can free us is obeying the rules that were given to us as a promised land.'
West told a story about his wife Kim Kardashian West's pregnancy.
'And let me go to Planned Parenthood,' he said, beginning the story.
'My girlfriend called me screaming, crying. I'm a rapper. And she said I'm pregnant. She was crying.'
West said he was weighing up what to do, when he received what he interpreted as a sign from God.
He told that he was in Paris, working on his laptop at the time.
'My screen went black and white,' he said.
'And God said, if you f*** with my b****** I f*** with yours.
'And I called my girlfriend and said we're going to have this child.
'Even if my wife were to divorce me after this speech, she brought North into this world, when I did not want to.'
West, growing emotional, then told the story of his own childhood.
'My Mum saved my life. My Dad wanted to abort me,' he said.
'There would have been no Kanye West. Because my Dad was too busy.'
West spent much of the time discussing abortion, and announced that he wanted women to be given money by the government for bearing children, to discourage abortion.
'Abortion should be legal but the option of maximum increase should be available,' he said.
'Everybody who has a baby gets a million dollars or something.'
West told the crowd of perhaps a hundred people that he wanted to illustrate his point about abortion with diagrams, but changed his mind after a social media backlash.
He had tweeted an image of a six-month fetus on July 8, and then deleted it.
'I even heard they could abort up to eight months,' he said.
'I wanted to show everyone what a six month old baby, that is legal to abort in New York looks like.
'Then I got social media backlash.
'I tell you what, I backstroke the backlash.
'When the baby is conceived, at that point it is a soul – a real living thing.'