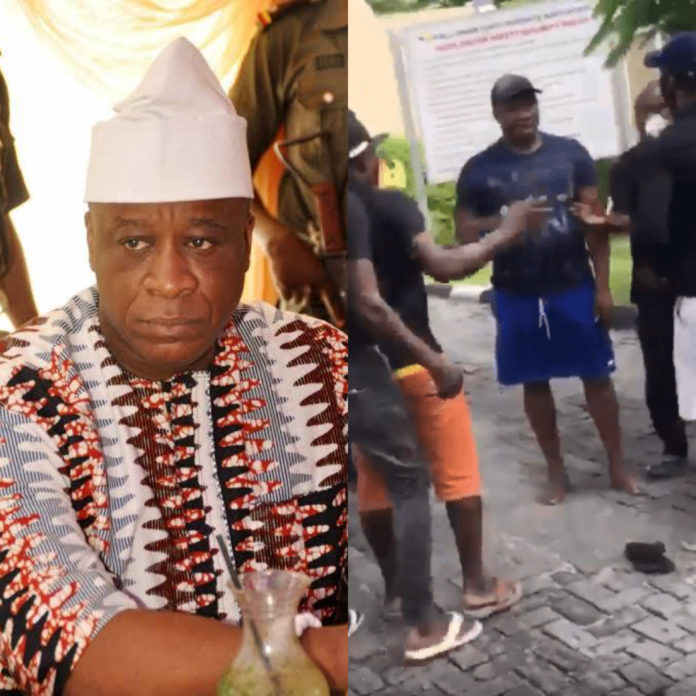 The reason why Tijani Oniru, the son of late Oba of Oniru Idowu Abiodun was attacked by some "security men" as seen in a video, has emerged after it went viral on social media.
The fight is reportedly connected to the control of some properties in highbrow Oniru, Eti Osa Local Government Area of Lagos State worth billions of naira, which the children of the former Oniru of Iruland continued to maintain control of after the death of their father.
It was alleged that Omogbolahan Lawal who was installed as the 15th Oniru of Iruland last month asked all banks housing funds belonging to the royal family to immediately freeze all the accounts of the family and also directed all tenants and lessees to stop transacting with any individual. However, the family of the late monarch continued to exercise control over some of the properties which they claimed belonged to them and not to the royal family.
The fight ensued on Sunday morning after Tijani led his own men to beat up those posting notices on the properties under contention, as directed by Oba Lawal.
An eyewitness told Punch; 
"On Sunday morning, the new Oniru's boys went about posting public notices on some of the properties but TJ (Tijani) got his boys to beat them up and chase them away. Later in the day, as TJ was making his way into Millennium Estate, the boys regrouped and beat him up."
Following the controversy the viral video ignited, one of the palace official who was seen fighting with Tijani Oniru has now been suspended. Oba Lawal who announced the palace official's suspension in a statement released by his media office, also confirmed that Tijani Oniru attacked the palace officials first.  An investigation is also being conducted.
The statement read;
"On Sunday, July 5, 2020, a rather regrettable incident occurred within the Oniru Estate Neighbourhood (close to Millennium Estate gate) which culminated in an altercation between some officials of Oniru's palace and a group led by Prince Tijani Oniru.
"A team of palace officials led by Prince Murisiku Ajasa were allegedly accosted by Prince Tijani Oniru and some other persons. The palace officials were on a routine inspection to supervise the work being done by an inventory and enumeration group.
"In the ensuing heated argument, it was alleged that Prince Tijani Oniru slapped the leader of the palace officials who was also alleged to have retaliated. Fortunately, the police quickly intervened to prevent further escalation.
"Notwithstanding the provocative affront to the authority of the Oniru and desecration tradition, the Oniru warned palace officials to remain emotionally stable in the discharge of their duties even in the face of provocation. In addition, he sees no reason or excuse for violence in Iruland.
"Consequently, kabiyesi has directed the palace administrator to immediately suspend the official involved in the incident pending full investigation. His majesty enjoins all parties to desist from all forms of violence and uphold peace, law and order."