A young pastor turned LGBTQ Activist who has been battling with the spirit of homosexuality has said that you can't pray the gay away after he finally gave in to the situation.
The youth pastor known as Dan Yomi shared an image from 9 years ago while he was praying to God to save him from the temptation but after leaving Nigeria he believes he is in a better place and still functioning as a preacher.
See his post below:
I was a youth pastor in Nigeria and a 20 year old praying for God to deliver me from the spirit of homosexuality. Those were dark times in my life and I am glad to be in a much better place now.
So No, you can't pray the gay away and the earlier you accept and love yourself the better.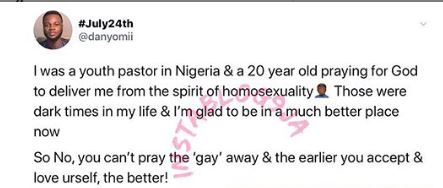 The truth is that we would be shocked at the people who would identify as gay once it legal in Nigeria. They do exist but only lying low because they live in a country that doesn't accept their sexuality.
Dan Yomi said that homosexuality cannot be prayed away, the only thing you can do is accept it. Do you agree with him?