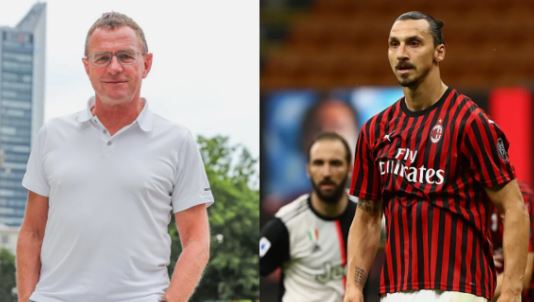 Zlatan Ibrahimovic has threatened to leave AC Milan next season if the club assigns RB Leipzig manager, Ralf Rangnick. The Swedish striker returned to his former club as a free agent after his spell with MLS side LA Galaxy. Ibrahimovic recently clashed with Milan's Chief Executive Ivan Gazidis over the direction the club is going at the moment.
And the 38-year-old is ready to walk out of the club if the San Siro outfit appoints Rangnick as their new manager or as a sporting director next season.
The former Barcelona star told Italian news media outlet La Gazzetta dello Sport: "Who is Rangnick? I don't even know who he is." When asked about his own future, he said: "Ibra plays to win something or he stays at home. "They told me that retiring in America was too easy, so I came back to Milan. I am here purely for passion, because I'm basically playing for free.
Then this COVID situation stopped everything and I thought, maybe there's something trying to tell me that I should retire. "Fortunately, we got back on the pitch. My calf managed to get involved too, but after two days I was ready to come back into the team. Ibra is like that. But they told me to take it slow. "Ibra was born to play football and is still the best at playing football. We'll see how I feel in two months. We'll also see what's happening with the club. If this is the situation, to be honest, it's unlikely you'll see me at Milan next season."
Do you think he will make good with his threat?