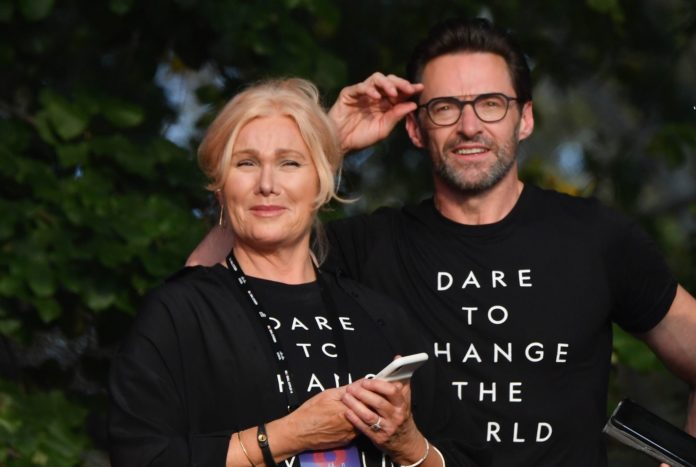 Hugh Jackman's wife, Deborra Lee-Furness, once again addressed rumors about her husband's sexuality.
In a candid interview that aired Tuesday on the Australian Broadcasting Corporation, the 64-year-old actress said that the persistent rumors about the "X-Men" star are "made up."
He's been gay so many years," Furness jokes, telling Australian comedian Ahn Do about speculation over the Oscar-nominated star's sexuality — which has been a tabloid obsession for years.
And the rumors don't stay only with her husband. "I was gay, too," she said. "You know when I did [the Australian 1988 film] "Shame"? I was gay. They were shocked when I got married."
"I hope people don't buy these magazines and realize it's all made up," she said during an episode of the television show, "Anh's Brush With Fame."
When she was asked if the speculation was annoying, Furness simply replied, "It's just wrong. It's like someone saying to Elton John, 'He's straight.' I'm sure he'd be pissed."
The two Aussies have been married for 24 years, and have two adopted children.
When she was asked if she ever got sick of people telling her that she's "lucky to be married to Hugh," Furness laughed and responded, "People don't realize it's actually rude to say that."
She was even more down-to-earth when Jackman was chosen as People's Sexiest Man Alive in 2008.
"What did you tell him?" Ahn asked.
"Take out the trash," she recalls, laughing." "Hey, sexy — your turn for the garbage."