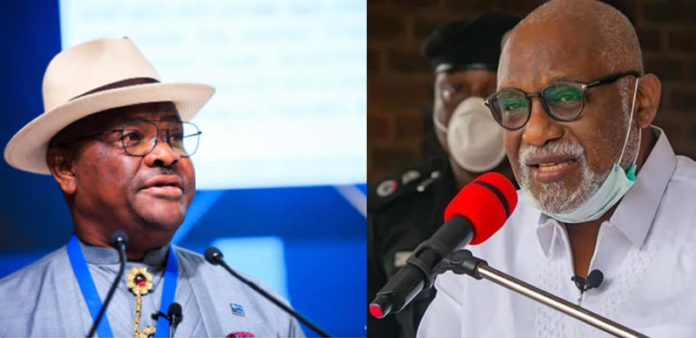 Rivers state Governor, Nyesom Wike has said his Ondo state counterpart, Governor Rotimi Akeredolu cannot stop him from visiting the state if he chooses to do so.
Wike in a television interview said as a Governor, he has every right to visit any state he wishes to visit.
"I don't want to believe that Governor Akeredolu said what he was quoted to have said because he knows the consequences of saying such.  I can visit Ondo State tomorrow and nobody can stop me.
"I was in Edo State before the election and the Inspector General of Police told me to leave but I told him I would not leave the state and I didn't leave. In the same vein, Governor Akeredolu or any other person in the state or the country cannot stop me from visiting Ondo State at anytime I wish to do so.
"Akeredolu was in Rivers State during one of our bye elections and nobody stopped him. He was in Rivers State to campaign for the candidate of his party and we didn't stop him. So, how come he now wants to stop me from visiting Ondo?" he said.
Akeredolu had warned Wike last week to steer clear of the state ahead of October 10, 2020 gubernatorial election.