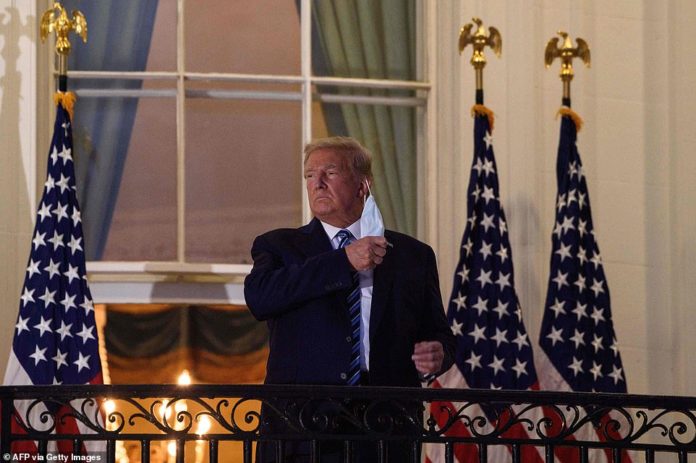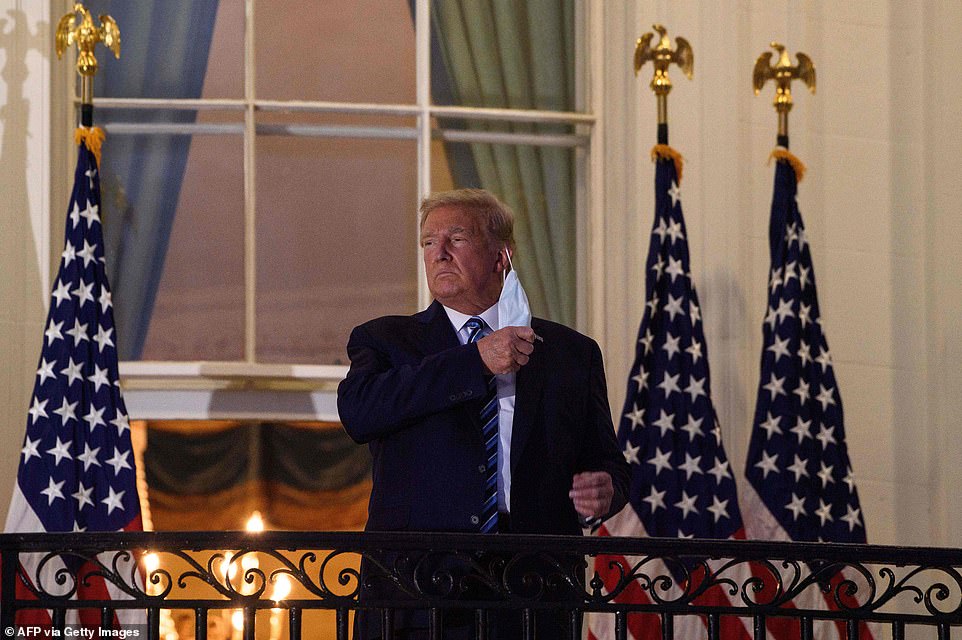 Donald Trump walked out of Walter Reed hospital on Monday, went back to the White House – and took off his mask almost immediately despite being sick with COVID.
He saluted, waved, and then started filming a video on the balcony of the South Portico, returning to an executive mansion where multiple aides and household staff also have the virus, and from where he promises he will soon leave to hit the campaign trail.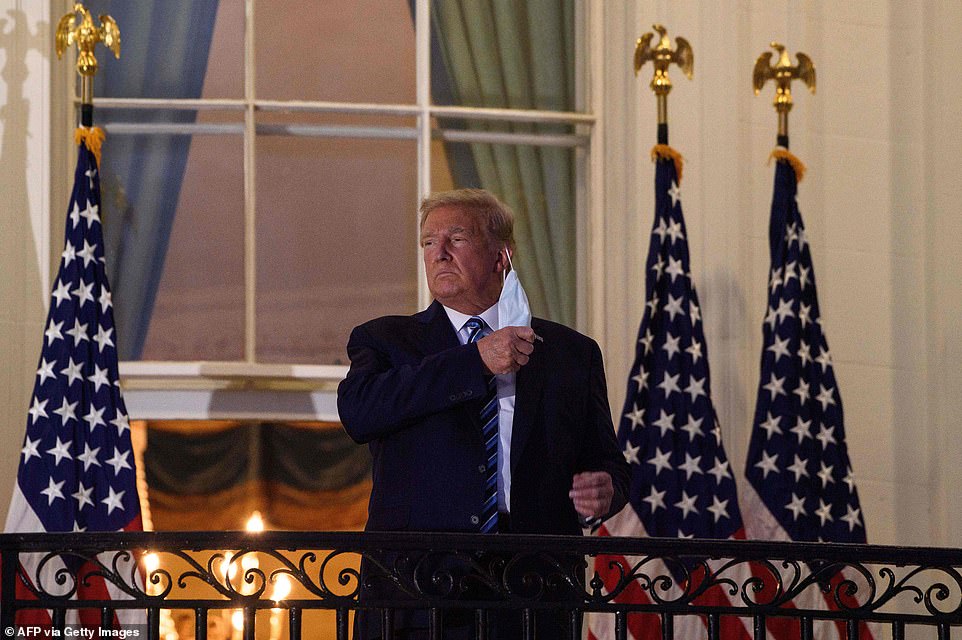 Removing his mask was a jarring end to three days of drama which saw him medevaced to Walter Reed on Marine One on Friday, revealed to have been on oxygen repeatedly, and treated with drugs not available to ordinary Americans.
As he left Walter Reed, his Democrat rival for the presidency, Joe Biden, said Trump was 'responsible' for his COVID-19 infection and blasted the 'macho' attitude that avoids mask wearing.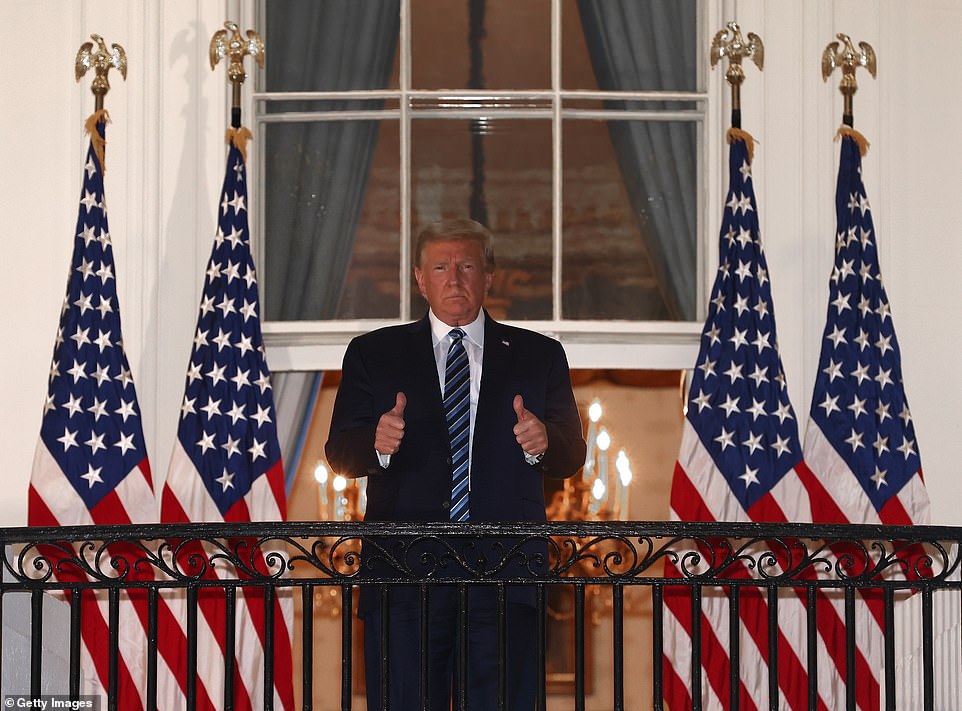 'Anybody who contracts the virus by essentially saying, 'masks don't matter, social distancing doesn't matter,' I think is responsible for what happens to them,' Biden said.
'What is this macho thing, 'I'm not going to wear a mask?' What's the deal here? Big deal, does it hurt you? Be patriotic for god's sake! Take care of yourself, but take care of your neighbors,' Biden said.
As Trump entered the White House, two staffers were visible behind him: official photographer Andrea Hanks filmed his arrival back to the executive mansion with a videographer standing by for a campaign video.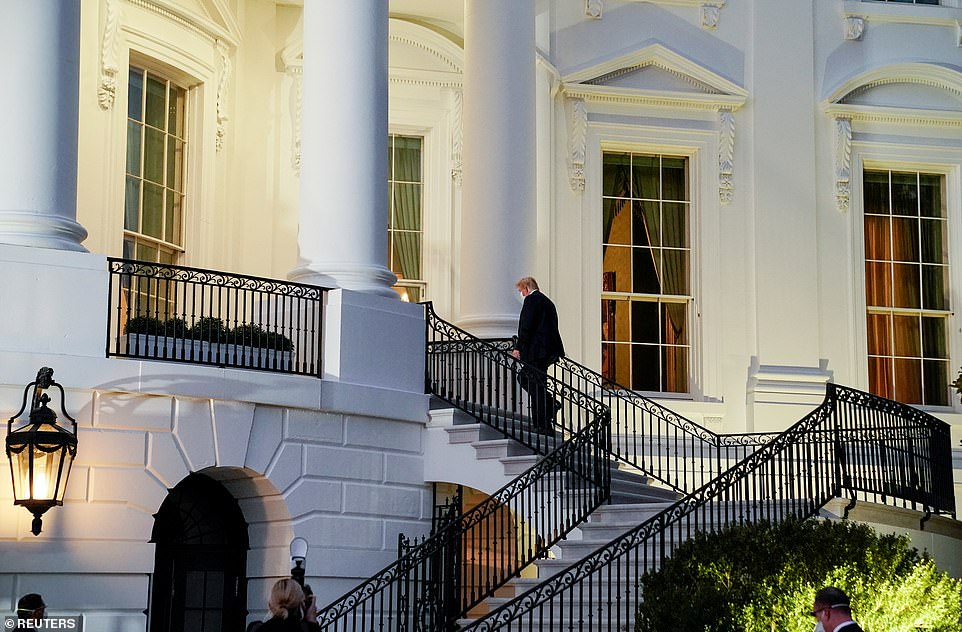 Less than half an hour later the video emerged: a slow-motion, cinematic production showing an apparently vital commander-in-chief's return, with only the site of Marines in masks giving away the fact that Trump was so ill that he was given oxygen and steroids normally reserved for people on ventilators.
Also waiting his arrival was trade adviser Peter Navarro, 71, who stood at the entrance.
Navarro is himself at elevated risk thanks to his age but he has been an advocate of hydroxychloroquine in the past.
The White House was readied for Trump's return by workers in protective suits, spraying disinfectant