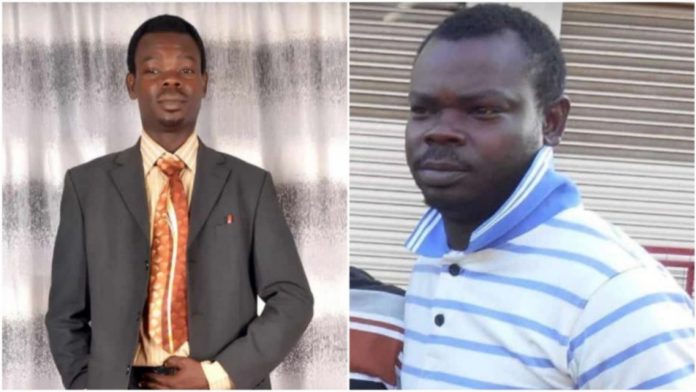 An operative of the Department of State Services (DSS), identified as Seyi Adebowale, was allegedly shot dead by an official of Nigeria Security and Civil Defence Corps, (NSCDC), Sunday Dada.
The incident, was said to have happened at Kuta, in Ayedire Local Government Area of Osun State, during a function at the palace of Olowu Kuta, the traditional ruler of the town on Tuesday night, September 15.
It was reported that Dada and his colleague, who were attached to the palace were shooting indiscriminately in a celebratory mood when a stray bullet hit the DSS officer.
In a footage, the NSCDC officer, Dada lost control of his ammunition; the bullet smashed hard on the ground before it hit the DSS officer, Adebowale, who was passing by.
Adebowale was rushed to the Ladoke Akintola University of Technology Teaching Hospital Osogbo, the Osun State capital where he later died on Monday, September 28, after two unsuccessful surgical operations. He was buried on Friday, October 2.
The spokesperson for the NSCDC in Osun State, Daniel Adigun, who confirmed the incident to PREMIUM TIMES on Sunday, October 4, said it was a case of operational error and the officer involved in the shooting has since been arrested and detained by the command.
"We are currently conducting a (an orderly) room trial and we are on top of the situation to make sure such does not occur again." he said.
Meanwhile, one Adegoke Adetayo, a friend of the deceased operative took to Facebook on Friday to mourn him. He wrote;
"Adebowale Chemmy Micheal: Seyi, my name sake. You came, saw and conquered. You did your best, gave your all but death came from the unexpected. Even when you were careful, the careless took your life,"
"I cherish every moment we had growing in the job in the city of Abeokuta with the like of Ganiyu Adebayo Femi Adetola, Micheal Ogunbanwo, Kayode, Sunday, Polycarp, Adebesin, Late Afolabi Okanlanwon, Idowu Abayomi and others before we all went our separate ways not because we wanted it but by default of the job which took us through different paths but we sustained the bond still.
"I join all your friends, families and all those who truly care about you including Bar. Muiz Banire (Former APC National Legal Adviser) to celebrate you and the eventful life you lived. Adieu Seyi Kemi Micheal Adebowale. May your soul Rest In Peace."