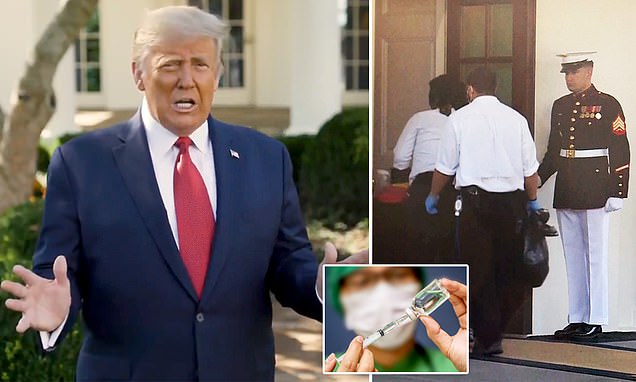 President Donald Trump tweeted out a video shot from the White House Rose Garden where he says he has been 'cured' by the experimental drug
Regeneron (experimental drug)– then pitched the medication and promised to make it available to all Americans.
The president released the outdoor statement Wednesday evening, after being out of sight for more than 24 hours. He may have shot the video on Tuesday. 'I think this was a blessing from god that I caught it. This was a blessing in disguise,' Trump said.
Trump went out to tout the experimental antibody cocktail Regeneron.
I heard about this drug. I said let me take it. It was my suggestion,' he said. Then he proclaimed himself 'cured' and said he wanted every American to get the type of treatment he got.
Trump is just one of 10 people receiving the drug, which is still in the experimental phase, and is intended to boost antibodies to fight the infection.
Trump's statement appeared to confirm that he shot the video Tuesday. He has not otherwise been seen by the public in more than 24 hours.
'You tell me what to do and I'm going to do it. These are great professionals,' Trump said. He also went on a tangent where he praised police and firefighters.
'But I spent four days there and I went in, I wasn't feeling so hot and within a very short period of time they gave me Regeneron, it's called Regeneron, and other things too, but I think this was the key. But they gave me Regeneron and it was like unbelievable, I felt good immediately, I felt as good three days ago as I do now. So I just want to say we have Regeneron, we have a very similar drug from Eli Lilly. And they're coming out and we're trying to get them on an emergency basis,' Trump said.
The White House physician also said Trump was put on oxygen, a steroid, and Remdesivir.
Trump talked up the therapeutic medication and those in development – then appeared to walk back his optimistic pronouncements for the timing of a vaccine.
'But to me it wasn't therapeutic, it just made me better, I call that a cure. But on the vaccines we have many companies that are in final stages on the vaccine,' Trump said.
'I think we should have it before the election, but frankly the politics gets involved, and that's OK they want to play their games, it's going to be right after the election.'
'Some people don't know how to define therapeutic.'
'It's a cure. For me, I walked in, I didn't feel good, a short 24 hours later I was feeling great, I wanted to get out of the hospital. And that's what I want for everybody. I want everybody to be given the same treatment as your president because I feel great, I feel like perfect. So I think this was a blessing from God that I caught it.'
'This was a blessing in disguise. I caught it, I heard about this drug, I said let me take it, it was my suggestion. Let me take it and it was incredible the way it worked. Incredible. I think if I didn't catch it we'd be looking at that like a number of other drugs. But it really did a fantastic job. I want to get for you what I got.'
Presumably he was filmed by a White House videographer on the grounds of the White House. The video came soon after it was revealed that Trump returned to the Oval Office on Wednesday afternoon despite being contagious from the coronavirus, the state of his health uncertain and several aides fighting the disease.