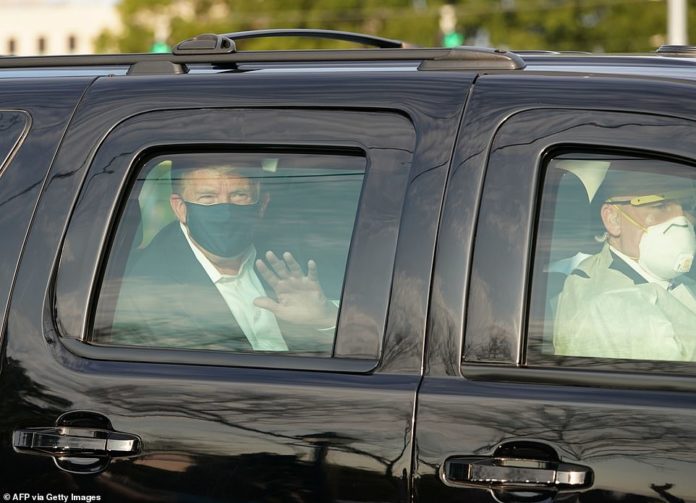 A doctor at the Walter Reed medical center where Donald Trump is currently being treated for COVID-19 has described the president's decision to go on a drive to wave at supporters as 'insanity'.
Other medical experts questioned the assessment that the president could be returning to the White House on Monday and said the scant details of his treatment suggested a serious condition.
Dr James Phillips, a Walter Reed attending doctor, condemned the president's Sunday afternoon drive, which violated Centers for Disease Control (CDC) guidelines.
He said it was dangerous and reckless, in comments which quickly went viral – gaining more than 100,000 'likes' and 40,000 retweets in the first hour.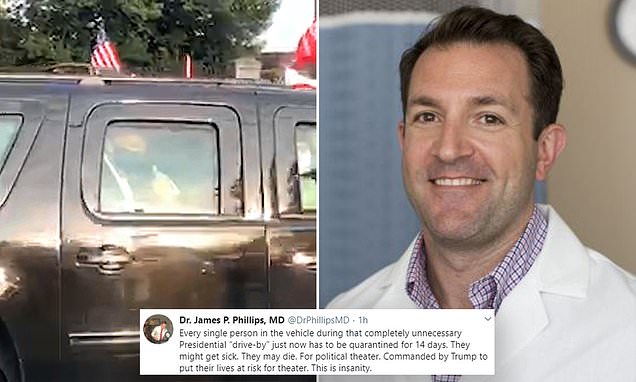 With Trump's condition still shrouded in confusion, doctors have suggested that the president could return to the White House as early as today.
But doctors said the president's treatment with dexamethasone – a steroid used for patients who require extra oxygen – is the clearest sign yet that Trump may have a severe case of Covid-19.
'Every single person in the vehicle during that completely unnecessary Presidential 'drive-by' just now has to be quarantined for 14 days,' he pointed out.
'They might get sick. They may die. For political theater. Commanded by Trump to put their lives at risk for theater. This is insanity.'
Phillips, chief of disaster medicine at George Washington University's Emergency Medicine division, and a COVID-19 consultant specializing on how to reopen safely, said that the design of the presidential vehicle, specifically modified to protect the passengers from attacks, made the drive even more dangerous.
'That Presidential SUV is not only bulletproof, but hermetically sealed against chemical attack,' he continued.
'The risk of COVID19 transmission inside is as high as it gets outside of medical procedures.
'The irresponsibility is astounding. My thoughts are with the Secret Service forced to play.'
The CDC website explicitly states that COVID patients should stay at home except to get medical care.