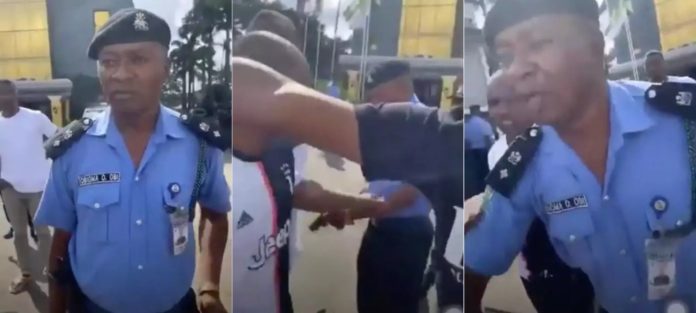 A video currently circulating online shows the moment a Divisional Police Officer (DPO), Obioma O. Obi, assaulted a peaceful protester and brought out his service pistol to shoot at the protesters in Owerri, Imo State.
There is an ongoing peacefull protest across the country against the Special Anti-Robbery Squad (SARS) of the Nigerian Police Force over brutality, illegal arrest, extortion, extra-judicial killings, among others.
As the #ENDSARS protests is going on today, Thursday 8th October, 2020, a disturbing video emerged from Owerri showing the DPO of Orji Police Station, Obinna Obi, punching a peaceful protester.
"Why did you blow me", The protester asked the DPO who immediately reached for his gun to shoot the protesters, but was stopped by his fellow police officers.
"Shoot me, Shoot", The protester shouted at the police officer, Obioma O. Obi.
The video has gone viral on the social media and Nigerians are calling for the immediate arrest of the police DPO for "pulling a loaded weapon on peaceful protesters."
Reacting to the video, the complaint unit of the Nigeria Police Force, tweeted;
"Your complaints have been forwarded to the appropriate authority for necessary action. Thank you."
Your complaints have been forwarded to the appropriate authority for necessary action. Thank you. https://t.co/EI5juyhj7D

— POLICE COMPLAINT (@PoliceNG_CRU) October 8, 2020