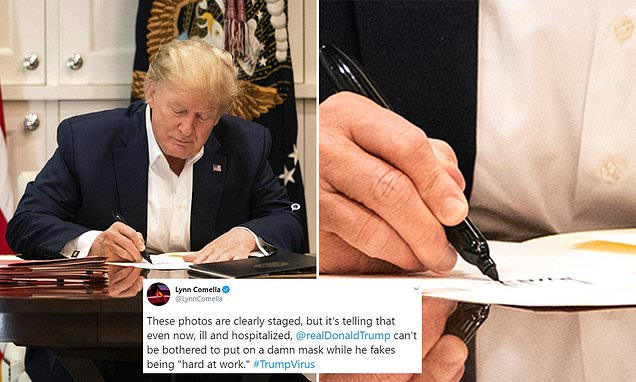 Donald Trump was photographed at Walter Reed Medical Center appearing to sign a blank piece of paper with a marker in an attempt to show he was still working while fighting coronavirus – prompting '#Staged' to trend on Twitter.
The White House released the contentious pictures of Trump appearing to work hard while receiving treatment inside the hospital on Saturday, where he remained for a second night after he and First Lady Melania tested positive for coronavirus.

Trump's daughter, Ivanka, shared one of the images to her own Twitter page, writing: 'Nothing can stop him from working for the American people. RELENTLESS!'
But the president's attempts to appear undeterred by the virus were quickly picked apart by eagled viewers online, who took to social media to accuse Trump of staging the images and blasting his 'reality TV presidency'.
One of the photographs showed the president sat at the end of a long conference table, with a walnut backdrop, dressed in an open collar white shirt, sifting through some files and grasping a pen.
The second image showed Trump sat at a round table with a white backdrop, wearing a suit jacket and appearing to write on a piece of paper in front of him.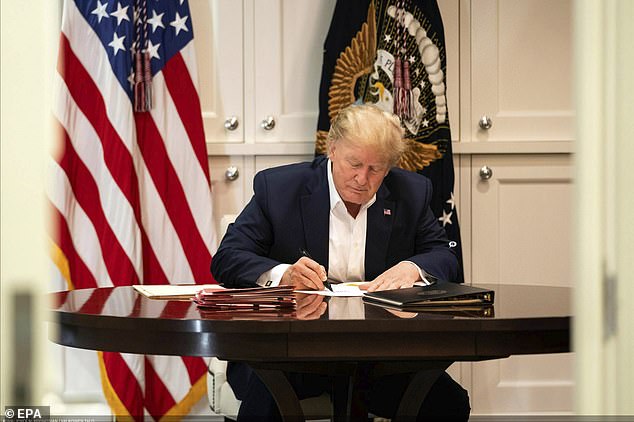 Though the content of the images appear to attempt to show a passage of time, editor-in-chief of The Air Current, Jon Ostrower, took a closer look at data embedded in the photos and found they had been taken just 10 minutes apart – despite showing Trump working in two different places.
'The photos released by the WH tonight of the president working at Walter Reed were taken 10 minutes apart at 5:25:39 pm and 5:35:40 pm ET Saturday, according to the EXIF data embedded in both AP wire postings that were shared by the White House this evening,' he tweeted.
White House reporter Andrew Feinberg also examined the photos at closer inspection, and, upon zooming in on one of them, he found that Trump 'appears to be signing his name to a blank sheet of paper'.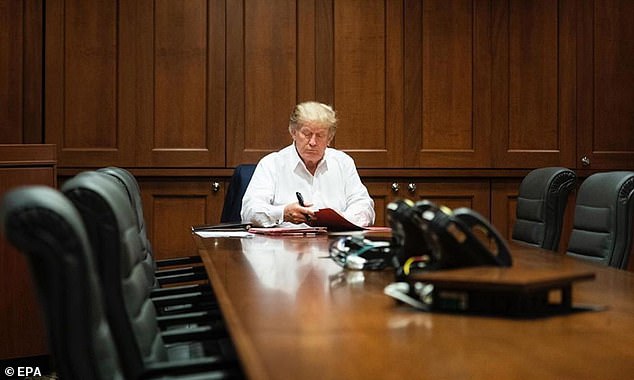 Mocking responses soon started flooding in, with the words 'staged' trending throughout Sunday morning.
'He was a reality TV star. As far as he's concerned, he just had to shoot a couple of promos for the 'look presidential' bit he performs,' one tweeter wrote.
One person said of him purportedly signing a blank sheet: 'That's the only kind of "work" he knows how to do. And in his mind, as long as he makes it look like he's working and his base believes it, that's every bit as good, if not better, than actually doing something.'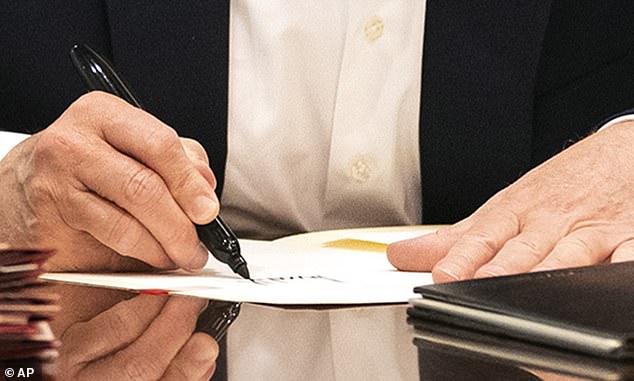 Other viewers of the images voiced concern that, despite currently battling COVID-19, Trump wasn't wearing a face mask or any other kind of personal protective equipment, while being photographed in different locations in the hospital.
'Not a huge surprise that these photos are staged – and I'm amused by those pointing out that if you zoom in he's just signing a blank sheet of paper – but it's genuinely appalling that he still won't wear a mask,' historian Alex von Tunzelmann tweeted. 'I hope his vanity hasn't caused the photographer to be infected.'
Others levelled criticism toward Ivanka amid her celebrations of her father's 'relentless' work ethic.
'Oh honey. Everyone can tell this is a very sick man propped in a chair for the purpose of staged White House propaganda. Go hug your kids and get off twitter,' author Lynn Comella replied.