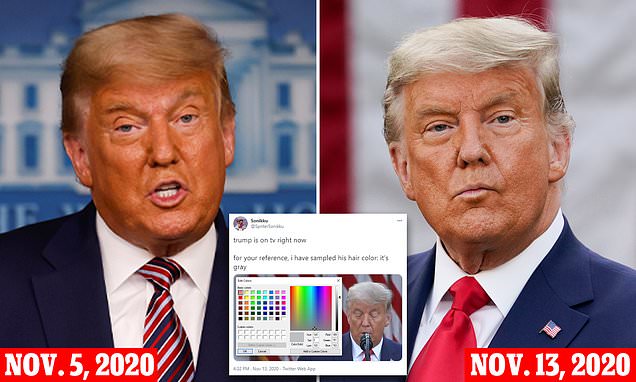 President Trump has held his first press conference since his election loss to Joe Biden, providing the public with an update on a COVID-19 vaccine.
And while Americans were eager to hear news about the potentially life-changing treatment, it was the Commander-in-chief's drastically different appearance that caused the most commotion on social media.
Hundreds of viewers took to Twitter during the briefing – which was held in the White House Rose Garden on Friday afternoon – to remark that the 74-year-old's hair had gone completely gray since he was last seen in public more than a week ago.
'I know this isn't important but Trump finally stopped coloring his hair,' one wrote, sharing a photo of the President from the press conference side-by-side with an image that was taken nine days ago.
The tweet prompted a flurry of mocking replies, with many attempting to deliver their best quips about Trump's silvery-white locks.
'His hair colourist has covid?' one mused.
'It appears Donald Trump's hair dye has conceded,' another joked.
A third person chimed in that his locks may have turned gray because 'it's stressful trying to overthrow a democracy'.