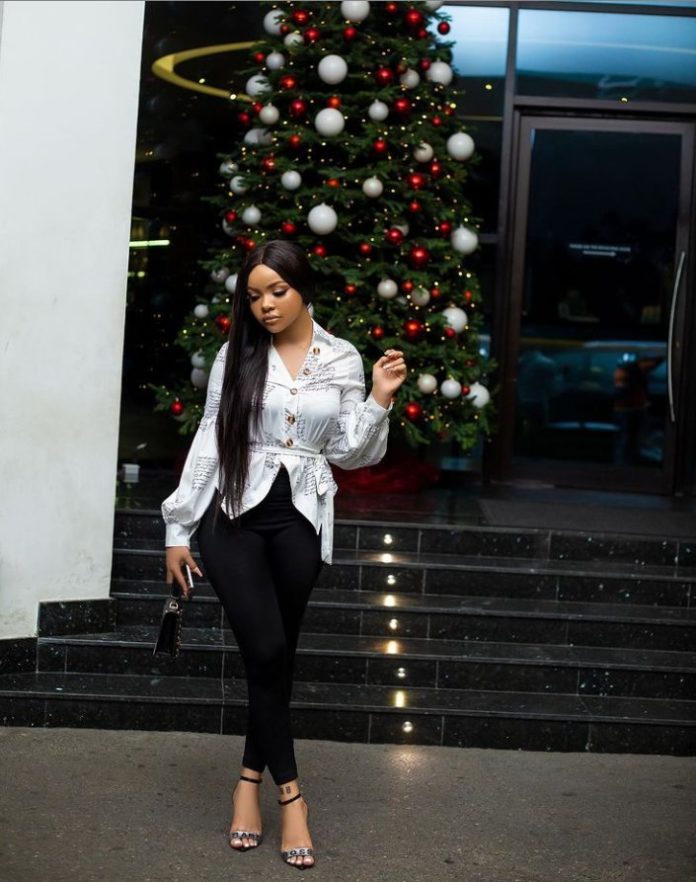 BBNaija's Nengi's age has been sort of a controversy right from her time in the big brother house as some claim she is older.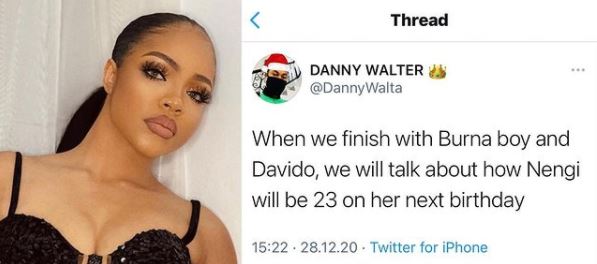 The same has started again as she approaches her 23rd birthday which is in three days. It started after a fan who went to UNIPORT made a tweet below: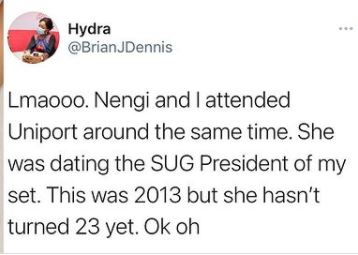 See reactions below:
Big lie my dear your lie is a very big one,i wonder what people gain by all these,which nengi? I don't want to give private info,no need.
Some people started life late and thinks everyone is like them. University is a school where 16years old and 30years old can both be in year 1.
Allow her be her 23 in peace if e pain you reduce your own age, just mind your damn business, if she's not 23 you don't know if its for passport purposes, just mind yall damn business
She could have been 17 in 2013, if she was in 100 level. The fact that she was dating the SUG President doesn't mean they were in the same set or age mates. You attended UNIPORT around the same time? Were you in the same level? And why exactly is Nengi's age an issue, you won marry am? you wan employ am? you dey there when dem born am? She can even decide to clock 17 on her next birthday. Sorosoke generation dey reason Nengi age, politicians dey plan 2023.
Regina is always 16,Emmanuela is always 10 so why is nengi's own different ya'll niggas should get a life abeg????
E be like say you people do not want to enter 2021 in peace abi. She is young and she looks it . This useless person telling this story . May be you're old in your Uni days and she is young. After all we have older people in our class in Uni days. Make u a rest and si f reasonable song , this is sounding like a broken record already. Rest o enemies!