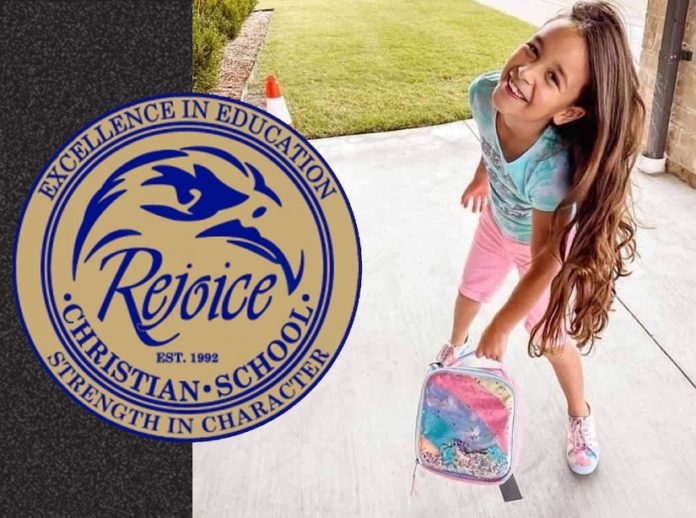 Delanie Shelton, the mother of 8-year-old Chloe, a second grader, has revealed how her daughter was kicked out of school because she told a female friend she had a crush on her.

According to Shelton, the incident took place onThursday, January 21 and by Friday the school contacted her saying that neither her daughter nor her brother would be welcomed back at school.
Rejoice Christian Schools, a private school in the city of Owasso, near Tulsa, justified the expulsion by telling Shelton that they don't allow relationships between students.
According to the school, things banned includes holding hands, hugging or kissing.
Speaking to Fox 23 News, Shelton said that her daughter was called into the vice principal's office after admitting to having a crush on a friend in the school's playground.
"[Chloe] said the vice principal sat her down and says the Bible says you can only marry a man and have children with a man," she said. "My daughter was crying saying 'Does God still love me?'"
However, there's nothing in the student handbook that suggests that it could be grounds for expulsion, she said.
"It wasn't a relationship nor a practice."
"Just a crush. To an 8-year-old, that could just mean that she really enjoys playing on the playground with her."
When Shelton spoke to the vice principal, she was asked how she felt about "girls liking girls."
After telling her that she had no problems with it, the vice principal "looked shocked and appalled," she said.
According to Shelton she wants her kids to grow up learning to not judge and to love whomever they want.
Superintendent Joel Pepin declined to comment, saying in a statement later that, "due to privacy and other factors, it is the school's policy to refrain from public comments regarding any particular student or family."
According to the mum, their neigborhood plans to hold a little rally in support for the 8-year-old, where they'll post signs in their lawns for her family to drive by and see on Saturday, January 30.
"I feel so loved and supported, thank you so much to everyone who helped me feel better for being who I am," Chloe said to Fox news.