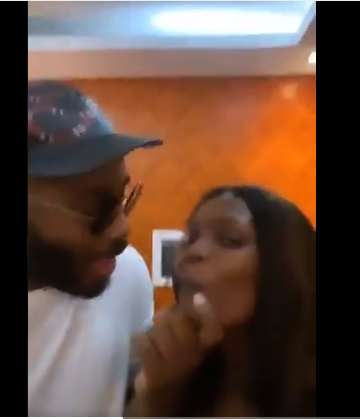 Big Brother Naija star, Kaisha has debunked claim of kissing Kiddwaya by sharing a full video of what transpired between them at co-reality show star Praise's birthday party.
Kaisha who also served some explanation via the tweets she shared, revealed that she had so much to drink on the night of the party. She also disclosed that Kiddwaya is like a brother to her and she has never imagined kissing him.
Kaisha tweeted;
So I woke up to "Kidd kissed Kaisha last night " How??? Oh yes I had too much to drink at Praise's birthday party last night and I don't remember kissing Kidd so where's this coming from?
Kidd's ritual of pouring drinks into our mouths is not new and we all know how playful he is. Kidd is like a brother to me and I have never imagined kissing Kidd! Never!!! It's my fault that I was careless last night; I had too much to drink
My carelessness pushed a Negative Narrative about Kidd and I sincerely apologize for that
For those assuming on Kidd's behavior saying he kissed me here you go… the full video. @RealKiddWaya
My carelessness pushed a Negative Narrative about Kidd and I sincerely apologize for that??
For those assuming on Kidd's behavior saying he kissed me here you go… the full video. @RealKiddWaya pic.twitter.com/RauLSgtP5M

— Kaisha Umaru (@kaishaofficial_) January 31, 2021