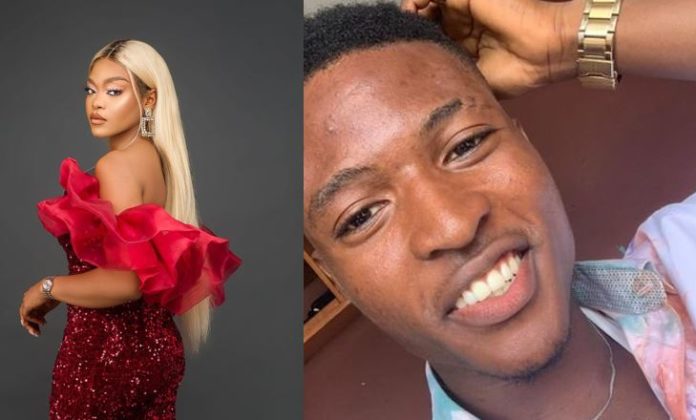 A disgruntled graphic designer has called out reality show star, Lilo Aderogba, for refusing to pay for his professional services to her brand.
The graphics designer, simply identified as Enitan, revealed that the former BBNaija housemate engaged his creative design skills, but offered to tag him on social media instead of paying for his services.
It all started when the 23-year-old dietician showed off her generous side on social media by offering to pay for a fan's outfit as her New Year present.
See the post below: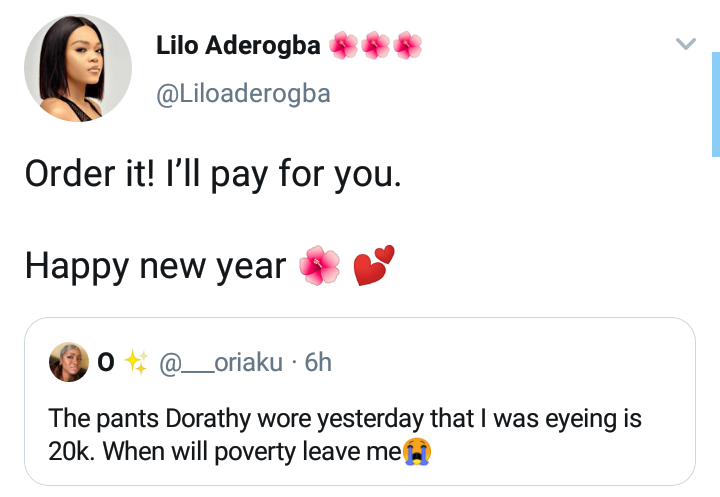 Enitan spotted her generous offer and lambasted her for showing "online kindness" while still owing him for his services. The enraged man took to his Twitter page to narrate how their business relationship began and shared photos of some of his projects, which Lilo failed to pay for.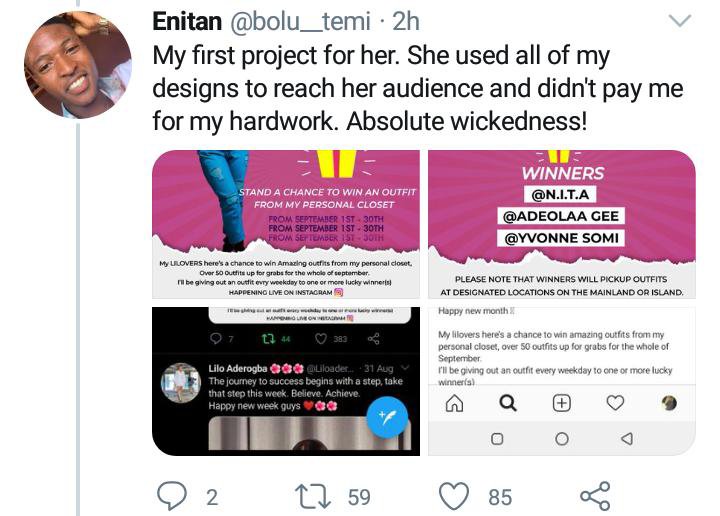 In a lengthy Twitter thread, he wrote,
"But you couldn't pay for the Jobs I did for you. Celebrities and this public showcasing of being nice. You and your brand are evil!

I know this might not even blow up cos I have very little followers but I will just call on few sensible people I've noticed on here @SMiTHiE___ @Shawnifee @SavvyRinu. Your retweets would go a long way into creating awareness of hoe some of these so called celebrities are evil.

August last year, I messaged Lilo on Twitter here trying to secure a graphic designer Job on her team cos I really saw she lacked that and needed one. Fastfoward, she replied and told me to send my portfolio to her mail which I did.
I knew she was going to be really busy…

Cos it was just like few weeks after she left the house. She responded after a week or so and I started talking to someone on her team and she told me they'd just want to try me cos they have so many other people trying to secure that position on the team so they gave me a test..

They told me to make a design of a brand she's working on launching which I did and Lilo really liked it and approved it.
I was really excited as I'm just a student and just trying to make money for myself, I put into so much effort designing just trying to secure a spot….

A whole design ffs, I Just had about 2hrs or more. Lol I quickly ran down to buy fuel and started designing. I submitted it some minutes past 12am cos she reviewed it and there changes to be done. Sent it to her, didn't get any feedback, just went on her Instagram page and saw it.

That was what I cared about as I didn't talk about getting paid yet.
She came on again, she wanted to launch Adire t-shirts, I made designs for them and sent them, her PA said she approved them and she posted them.
After I finished the Adire project which she named ADR by LILO…

Want to be tagging me on Instagram that Lilo has been asking for my IG handle so they'd b tagging my handles every if the design. I told them as much as I wanted to reach greater audience, I've spent money and even put in alot of effort in these projects and I need to get paid..

They stopped replying all of my messages after constant using my designs and didn't pay me a dime!
Mehn I felt really bad, I was down, I had to stay awake all night to get the list of the winners to make the design. Nights upon nights, my efforts, my money spent all for IG tags?!

Cos I'm an up and coming brand, doesn't mean you should use my hardwork and don't pay for it. I really hope my vouve you is heard and I get justice fr.
Some of these celebrities do these to up and coming brands and it's really evil. Y'all that do this should fix up!

You using my designs to get to your audience to seek your clothes and you using my designs on your fanpage runned by your PA.
I have no intention to bring down your brand but I felt miserable cos I couldn't get justice for Months! Other proofs I couldn't get too."
See his post below,
But you couldn't pay for the Jobs I did for you.
Celebrities and this public showcasing of being nice.
You and your brand are evil! https://t.co/c1jIdFomop

— Enitan (@bolu__temi) January 6, 2021