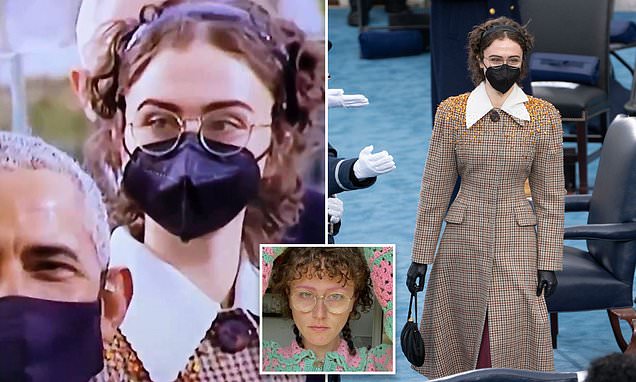 Kamala Harris' stepdaughter Ella Emhoff has signed with IMG Models after an eye-catching appearance at the January 20 inauguration.
Emhoff, 21, is the daughter of Harris' husband Doug Emhoff and his first wife Kerstin, a film producer. A fine art student at the Parsons School of Design in New York City, specializing in textiles, Emhoff had been in talks with the agency since her stepmother's career pushed her into the spotlight.
Her Miu Miu coat and viral eyebrow-wiggling at Mike Pence sealed the deal: before inauguration day she had about 50,000 followers on Instagram, and a week later the total had surpassed 300,000.
Emhoff now joins the ranks of Gigi Hadid, Kate Moss, Gisele Bundchen and Alek Wek.
Her signing comes a day that of Amanda Gorman, the 22-year-old youth poet laureate who performed at the inauguration.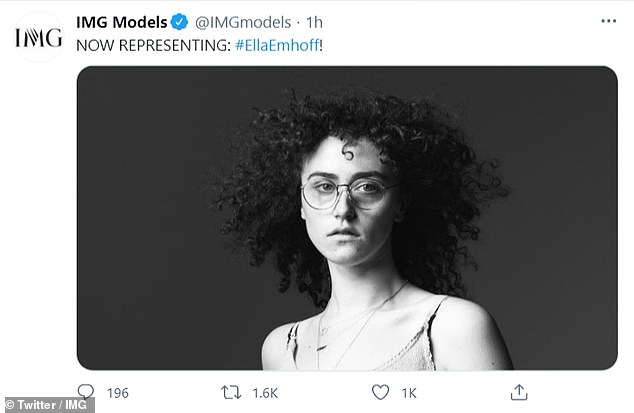 'It's not really about shape, size or gender any more,' said Ivan Bart, the president of IMG Models.
'Ella communicates this moment in time. There's a cheekiness and a joy she exudes.'
He said his response to seeing her at the inauguration was: 'Wow, she's communicating fashion.'
Emhoff, with her unconventional looks and 18 tattoos – among them a cow, a vase, and bacon and eggs, plus several she did herself during lockdown – said the approach from Bart took her back, even though she had been dabbling in modelling for a smaller agent.
'I was pretty surprised when everything with IMG was happening because when I was younger, I never saw that as being part of my timeline,' she told The New York Times.