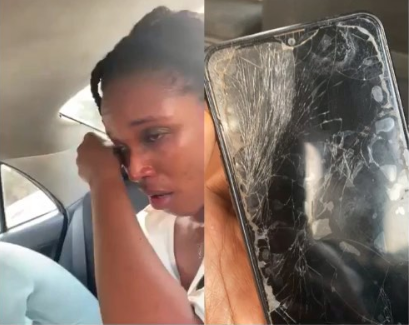 A Nigerian lady known as @sisionyinye has narrated how she was allegedly assaulted by her employer in Lagos who she identified as Mr Patrick.
@SisiOnyinye who disclosed that she stretched herself beyond her job description, said trouble began after her employer sent her out to buy food for him even when he knew it was almost closing time.
She further disclosed that this degenerated to him striking her first and her phone getting smashed.
See her tweets  and the video below;
See reactions to her tweets below:
I'm sorry about what happened pls be strong ! Why not let's make him popular ? His social media handles ,contacts and more … Go file an official complaint against him.. and don't let it stop at
@PoliceNG
@PoliceNG_CRU
 It's an abuse and no justification to it !
I'm just so happy you slapped him back
So sorry you had to go through that
Sorry you had to go through all these. You also need to follow up by dropping his name, company name, address. He shouldn't go unpunished for hitting you. He definitely needs to pay you for the month you've worked too.
This job description and the actual job you are meant to do when employed is somtng we need to start looking into seriously! The character of your former employer is not excusable! Many graduates are going through similar conditons out there! It has to stop!