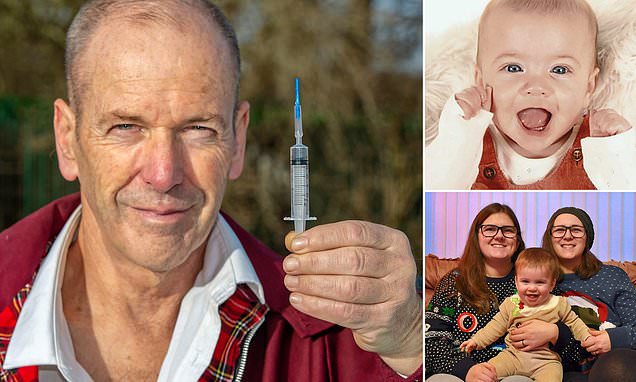 Clive Jones, a retired 65-year-old maths teacher from Derby, claims he has fathered 116 children acting as a sperm donor over the past eight years

What this man is offering is neither a relationship nor even simple friendship. Rather, he is offering his sperm and his advert is targeted at British women desperate to conceive a baby.
As a result of coronavirus restrictions and clinics forced to close, there is a nationwide shortage of donors and this has led to a disturbing Wild West-style trade in human sperm being hawked across the internet and social media. Facebook, in particular, hosts dozens of specialist groups where men offer their services and women ask for help.
With loneliness at record levels and opportunities to meet the opposite sex at a minimum, the market for DIY babies is booming – despite the accompanying risks of genetic problems, fraud and long-term issues. But as one woman, a primary school teacher, told The Mail on Sunday last week, she has spent years trying to find the right man and now has had enough of waiting. While some women she knows are resorting to private 'arrangements', through friends or friends of friends, others, like herself, are turning to the online world.
Aimy Frost, far left, from Stoke on Trent, and wife Alix with donor baby Rinoa, also pictured, used Facebook to find a sperm donor
'I'm 35. The clock is ticking for me to get pregnant. I'm single and I've lost hope of meeting someone I like enough to start a family with,' she says. 'But why should that mean I lose my chance at becoming a mother?'
So she has ventured on to Facebook. 'I don't know what to expect. Obviously, I want to be safe, and won't rush into anything. But I'm so desperate to have a baby I'm willing to take more risks. How different can it be to having a one-night stand?'