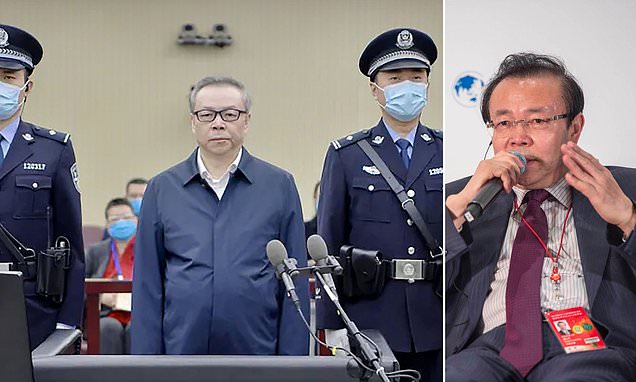 Top Chinese banker, Lai Xiaomin was executed on Friday for soliciting $300million in bribes and starting a secret second family while married to his 'loyal wife', the official People's Daily reported.
In one of China's highest-profile corruption cases, Lai Xiaomin, an ex-Communist Party member, 58, was found guilty of receiving or seeking bribes totalling 1.79billion yuan ($278million) from 2008-18, when he was also a senior banking regulator.
Lai, who was the chairman of China Huarong Asset Management Co – a distressed debt group – was sentenced on January 5 by the Secondary Intermediate People's Court of Tianjin. He was also convicted on corruption and bigamy charges.
He met with close relatives before the execution was carried out by the Tianjin court on the orders of China's Supreme People's Court, the newspaper said.
Lai gave a detailed televised confession on state broadcaster CCTV last January, which showed footage of safes and cabinets stuffed with cash in a Beijing apartment belonging to him.
Lai was also found guilty of bigamy after living with a woman 'as man and wife for long periods' outside of his marriage and fathering illegitimate children.
Lai's death sentence is one of the harshest punishments for economic crimes in recent years.
Life sentences and suspended death sentences commuted to life after two years are frequently handed down in corruption cases, but death sentences without the chance of reprieve have become rare in recent years. Such sentences automatically go on appeal to China's highest court.