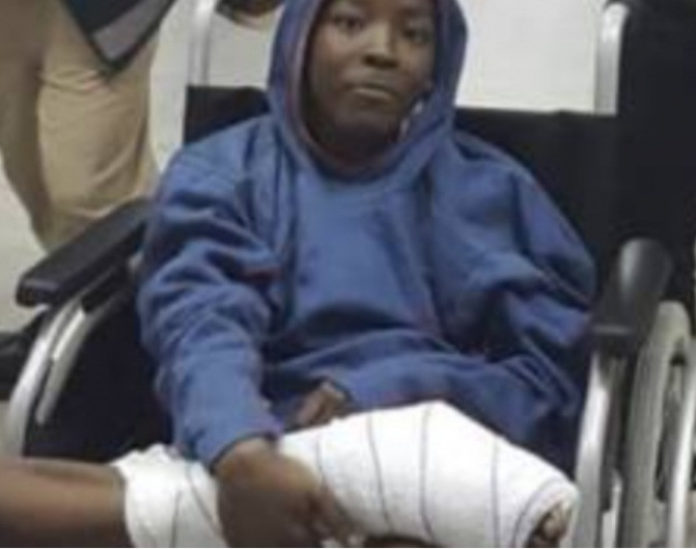 A team of doctors at Thumbay University Hospital United Arab Emirates have used a 3D printing technology to carry out a foot reconstruction surgery on a nine year-old Nigerian boy's leg.
The boy needed the surgery after suffering a gunshot.
The boy's family members disclosed that all the doctors consulted in Nigeria and UAE said the boy's right leg needed to be amputated after he sustained a severe injury from a gunshot wound in Nigeria.
However, doctors at Thumbay University Hospital used the 3D printing technology to carry out the complex surgical procedure which saved the nine year old's right leg from amputation.
The boy's traumatised parents had reached out to Dr Faisal Ameer, the head of plastic and reconstructive Surgery at Thumbay University Hospital, Ajman, who assured them their son's leg could be saved.
The hospital authorities carried out thorough diagnostic tests and a computed tomography (CT) angiogram of the foot and arrived at the conclusion that a complex surgical procedure and post-operative care is likely to save the limb from amputation.
The laser surgery lasted over 14 hours and was followed by a 3D CT scan. An image of the missing bones, which were destroyed by the gunshot wound in the right limb, was reconstructed by a design team belonging to Dubai, Germany and Belgium.
Dr Hillol Kanti Pal, a neurosurgeon, Dr Mufique Gajdhar, a paediatric surgeon, and Dr Arun Kumar, a radiologist, put together a meshed bone made of titanium, which was implanted in the child's right foot by using the 3D printing technology.
"This is the first-of-its-kind surgery to be reported in the field of medical science, which makes it unique, historic and extraordinary," said Akbar Moideen Thumbay, Vice-president of Healthcare Division, Thumbay Group.
"It's a matter of great pride and accomplishment for Thumbay University Hospital, as we bring glory to the nation. The feat further cements the UAE's reputation of making records in all walks of life."
The boy's mother also appreciated the doctors' help in saving the boy's leg.
She said: "I am so grateful to the doctors and the entire team at the hospital for saving my son's life. With their help, he will now be able to get back to his normal life."
The boy is currently undergoing intensive physiotherapy as part of the post-operative care and is expected to make a full recovery soon.