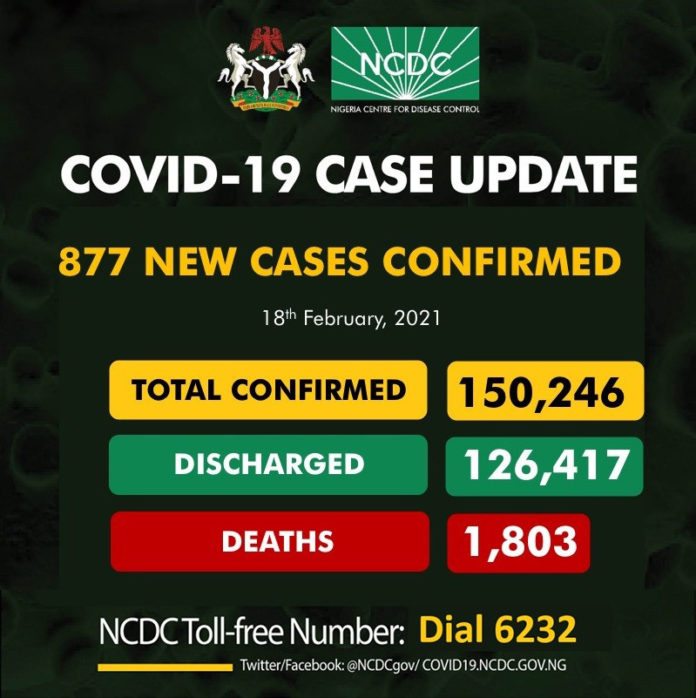 According to the Nigeria Center for Disease Control NCDC, Lagos recorded 273 fresh cases while Kaduna recorded 87 fresh cases.
877 new cases of #COVID19Nigeria;

Lagos-273
Kaduna-87
Rivers-58
Akwa Ibom-47
Ebonyi-47
Edo-46
Ogun-46
Abia-34
Imo-34
Kano-34
Oyo-26
Osun-22
Gombe-20
Ekiti-19
Cross River-15
FCT-15
Plateau-11
Enugu-9
Kebbi-8
Borno-7
Niger-6
Bayelsa-5
Nasarawa-4
Kwara-2
Katsina-1
Sokoto-1 pic.twitter.com/XD6pkT8F2H

— NCDC (@NCDCgov) February 19, 2021
Other states with new cases include Rivers-58, Akwa Ibom-47, Ebonyi-47, Edo-46, Ogun-46, Abia-34, Imo-34, Kano-34, Oyo-26, Osun-22, Gombe-20, Ekiti-19, Cross River-15, FCT-15, Plateau-11, Enugu-9, Kebbi-8, Borno-7, Niger-6, Bayelsa-5, Nasarawa-4, Kwara-2, Katsina-1 and Sokoto-1.
Nigeria now has 150, 246 confirmed cases of the viral disease. 126, 417 patients have been successfully treated and discharged while 1, 803 deaths have been recorded.
See a breakdown of the number of cases per states below