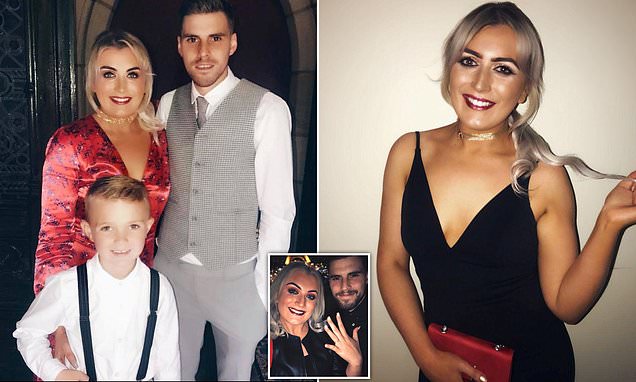 A 'beautiful' and 'bubbly' mother-of-one has tragically passed away with a rare form of cancer just weeks after doctors gave her the all-clear.
Ashleigh Whitaker, 27, battled Ewing Sarcoma for a year before finally being given the amazing news of her recovery in December.
Partner Mitchell Antrobus, 30, said his fiancee was 'excited' for the future and had even started looking at wedding dresses to wear on her big day.
However, their joy turned to despair on January 30 when she started feeling unwell and was rushed into hospital on February 2 for treatment.
Within hours doctors identified her cancer had returned and, just one day after being admitted to hospital, Ashleigh died.
The hairstylist from Haslingden, Lancashire, leaves behind her partner of 10 years, Mitchell, and their 10-year-old son Jordan.
Mitchell said: 'Ashleigh was the most caring and loving person you could ever meet. She could just walk in and light up a room. She gave such positive vibes to everyone who met her.
'She was the greatest mum and her child meant the world to her. Ashleigh wanted so much from life and had so much more to give, but it was cruelly taken away.'
He added: 'It doesn't feel real that she's gone, it's like a nightmare. I can't do anything but feel broken.'
Ashleigh was diagnosed with Ewing Sarcoma, a rare cancer that affects bones or the tissue around bones, in January last year.
She battled the disease for 12 months and, in that time, underwent chemotherapy and radiotherapy at Clatterbridge Cancer Hospital in Liverpool.