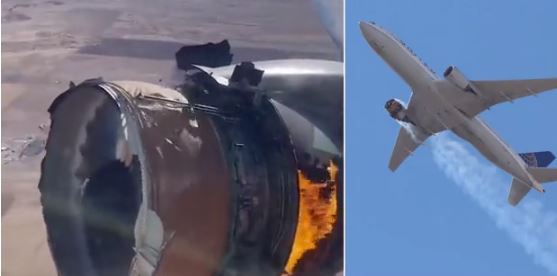 Boeing has called for the grounding of all 128 planes of its Boeing 777 that use Pratt & Whitney PW4000 engines as US regulators investigate a United Airlines flight whose engine caught fire and fell apart above Colorado. 
United and Japan's two main airlines – Japan Airlines and All Nippon Airways – confirmed they had already suspended operations of 56 planes fitted with the same engine which fell apart mid-flight over Colorado on Saturday. United counts for 24 of those aircraft, and the Japanese operators have 32.
South Korea is the only other country using the same combination of a Boeing 777 with a Pratt & Whitney PW4000 engine – although operations have not been suspended there. A further 59 of the planes are not in service.
Boeing said the aircraft should be taken out of service until the Federal Aviation Authority had determined an inspection procedure.
'While the NTSB investigation is ongoing, we recommended suspending operations of the 69 in-service and 59 in-storage 777 aircraft powered by Pratt & Whitney 4000-112 engines,' the company said.
United Airlines said late Sunday it will immediately halt all flights by its fleet of 24 Boeing 777 airplanes with the same type of engine involved in Saturday's emergency landing in Denver.
The airline said it will continue discussions with US regulators 'to determine any additional steps that are needed to ensure these aircraft meet our rigorous safety standards and can return to service'.
It came after the Federal Aviation Administration (FAA) said it would require stepped-up inspections of 777 aircraft with Pratt & Whitney PW4000 series engines after the right engine failure on United Flight 328.
In a statement released Sunday evening, FAA Administrator Steve Dickson said: 'After consulting with my team of aviation safety experts about yesterday's engine failure aboard a Boeing 777 airplane in Denver, I have directed them to issue an Emergency Airworthiness Directive that would require immediate or stepped-up inspections of Boeing 777 airplanes equipped with certain Pratt & Whitney PW4000 engines.
'This will likely mean that some airplanes will be removed from service,' he added.
Dickson said that his team has 'reviewed all available safety data following yesterday's incident,' and 'based on the initial information, we concluded that the inspection interval should be stepped up for the hollow fan blades that are unique to this model of engine, used solely on Boeing 777 airplanes'.
According to Dickson, the FAA 'is working closely with other civil aviation authorities to make this information available to affected operators in their jurisdictions'.
He said his team will be meeting with Pratt & Whitney and Boeing 'to finalize the details of the Airworthiness Directive and any accompanying service bulletins to ensure that the appropriate airplanes are included in the order'.