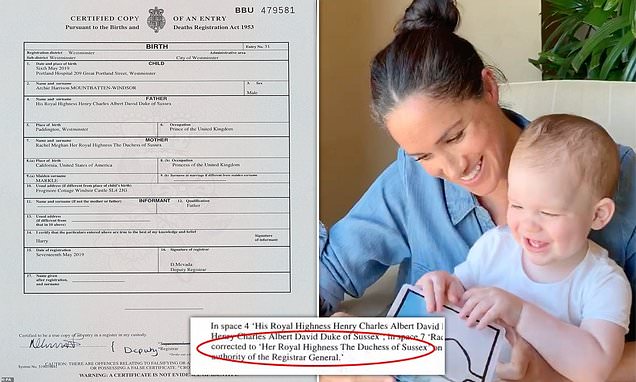 Buckingham Palace today denied it 'dictated' that Meghan Markle should remove her first names from son Archie's birth certificate a month after he was born.
'Rachel Meghan' was taken off the document to leave just 'Her Royal Highness the Duchess of Sussex' with royal protocol blamed by the LA-based couple's US PR team.
Buckingham Palace has refused to comment but a royal source said that it was Prince Harry and Meghan's own aides at Kensington Palace who made the changes – and it had nothing to do with the Queen or her staff.
'The certificate was changed by the former office of the Duke and Duchess of Sussex. It was changed to ensure consistency of the name and title of the Duchess with other private documents', an insider confirmed to MailOnline.
Another source told The Telegraph that the Sussexes' US media team had made a mistake and suggested something had been 'lost in translation'. The unnamed insider said their angry statement 'posed more questions than it answered' and the use of the work 'dictated' was unfortunate.
The aide added: 'These are civil documents, there is no protocol.'
The Duke and Duchess of Sussex's US media team said the change to Archie's birth certificate had been 'dictated' by the Palace. Buckingham Palace has denied it was anything to do with them
Harry and Meghan's son Archie was born on May 6, 2019, and the birth registered on May 17. The name change was made on June 5 but has only now come to light.
The name change revelation in The Sun on Sunday surprised many royal insiders and sparked speculation about why Meghan and husband Prince Harry made the change in June 2019.
Harry and Meghan's US PR team said later it was 'dictated by the Palace' in an attack on the British press.