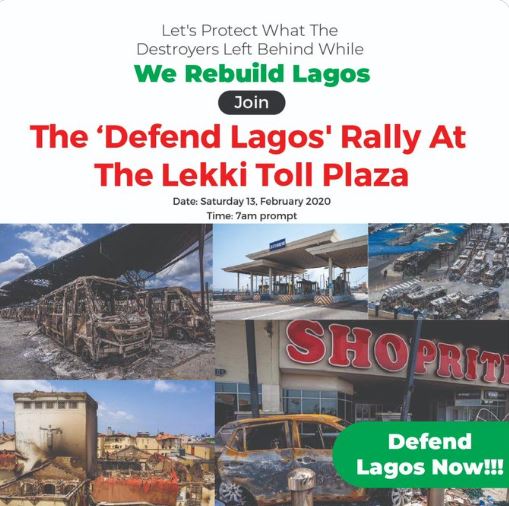 #DefendLagos is currently trending on Twitter as some Nigerians are planning a counter-protest at the Lekki tollgate this Saturday, February 13.
This came few hours after some Nigerians who are against the reopening of the Lekki tollgate announcer they will be protesting on February 13.
The announcement brought about the use of the hashtag, #OccupyLekkiTollgate on Twitter, as many Nigerians supports the protest.
However, some Nigerians on Twitter are against the protest and have indicated plans to counter-protest using the hashtag on February 13 using the hashtag #DefendLagos.
One of the promoters of the #DefendLagos protest, Olusoga Owoeye @olusogaowoeye wrote "Show your love for our Lagos. Get your friends and your neighbors to be there. Join the DefendLagos Rally at the Lekki toll plaza on the 13th of February. We will not cede our city to criminals and insurrectionists. Lagos is our pride."
Another promoter, @salamhunters, wrote "We will defend and protect our Lagos from looters and arsonists."
See more tweets below.
Na the same "Leaders of tomorrow" dem don give raba to trend #DefendLagos. Awon eyan Voltron, defenders of the Lagos.?

— Sage Ugo (@sageugo) February 8, 2021
What we have learned from the Judicial panels , #EndSARS , and #LekkiMassacre ;
1. Never negotiate with this govt.
2. When you go out on the streets, stay on the streets until your demands are met.
3. Prepare for violence, they always bring it.

We should #OccupyLekkiTollGate

— Somto Onuchukwu (@chosensomto) February 8, 2021
Seeing #OccupyLekkiTollGate trend has made me smile. One of the sincerest smiles I've worn in days.

Let's do this!

— Uduak-estelle, Scion of B.E.? (@U_estelle) February 8, 2021
This is their idea of defending Lagos, but #OccupyLekkiTollGate we must until justice is served; until #BuhariMustGo #Buratai and @jidesanwoolu are brought before @IntlCrimCourt #EndSARS #nogoingback #RevolutionNow pic.twitter.com/MfYPHFt863

— Omoyele Sowore (@YeleSowore) February 9, 2021