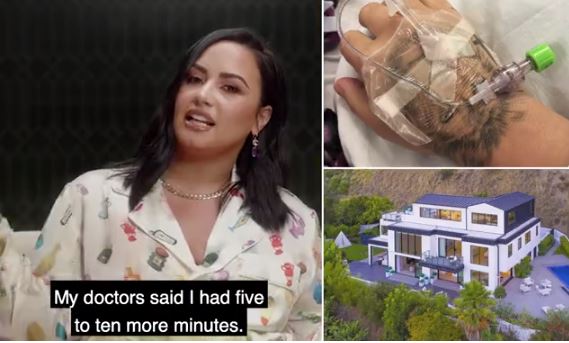 Demi Lovato revealed she had 'THREE strokes, a heart attack and now has brain damage' as a  result of her 2018 drug overdose – believed to be heroin.
In a teaser for her upcoming YouTube documentary Dancing With The Devil, which premieres March 23. the pop star, 28, admitted the overdose nearly left her for dead.
She said: 'I had three strokes. I had a heart attack. My doctors said that I had five to 10 more minutes,' said Lovato stoically during a confessional for the four-parter.
Appearing to confirm that it was heroin that Lovato overdosed on, her friend says in the clip: 'She should be dead. Are we talking about heroin? Are we doing that?'
At one point, an image of Demi's tattooed hand hooked up to an IV and covered in medical tape, as well as with a hospital band fastened around her wrist, appeared on screen.
The hospital band featured Lovato's August 20, 1992 birthdate, as well as the date she was admitted to the hospital: '7/24/2018'
As she continued to reflect on the life changing incident and the effect it has continued to have on herself, her friends, and family, Demi compared her resiliency to that of a cat with nine lives. 
'I've had a lot of lives, like my cat. You know, I'm on my ninth life,' she stressed. 'I'm ready to get back to doing what I love, which is making music.'
'I've dealt with the repercussions, and they're there to remind me what could happen if I get into a dark place again. I'm grateful for these reminders,' concluded the star.
The nearly three-minute teaser trailer for Dancing With The Devil features scenes from Lovato's extraordinary life, including backstage footage, stage performances, as well as intimate interviews with her closest confidants.