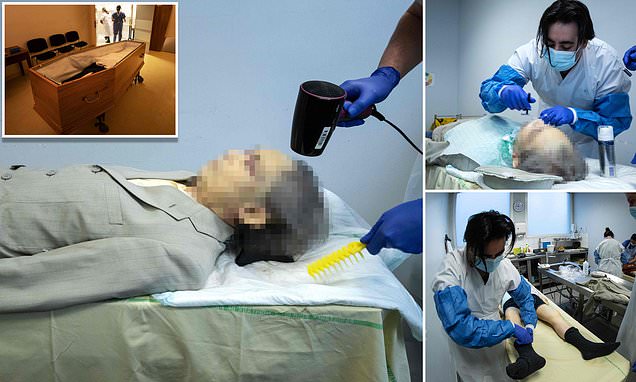 The inner workings of a mortuary in Paris have been laid bare in a series of confronting photographs as France's coronavirus case and death tolls steadily climb amid fears of a third wave of disease.
Photographer Joel Sagat was granted access to the mortuary of Beaujon Hospital in Paris where medics were preparing two bodies for burial.
The images show medical staff shaving and grooming the bodies, before dressing them and placing them in coffins ready for burial or cremation amid a pandemic that has seen the city's death-toll soar.
France's case and death tolls have been steadily climbing since a second national lockdown ended on December 15, though last week Emmanuel Macron refused to plunge the country into a third shutdown.
Instead, border restrictions were tightened amid fears of importing new and more-infectious variants of the virus, despite the objections of doctors who said the measures were merely 'delaying the inevitable'.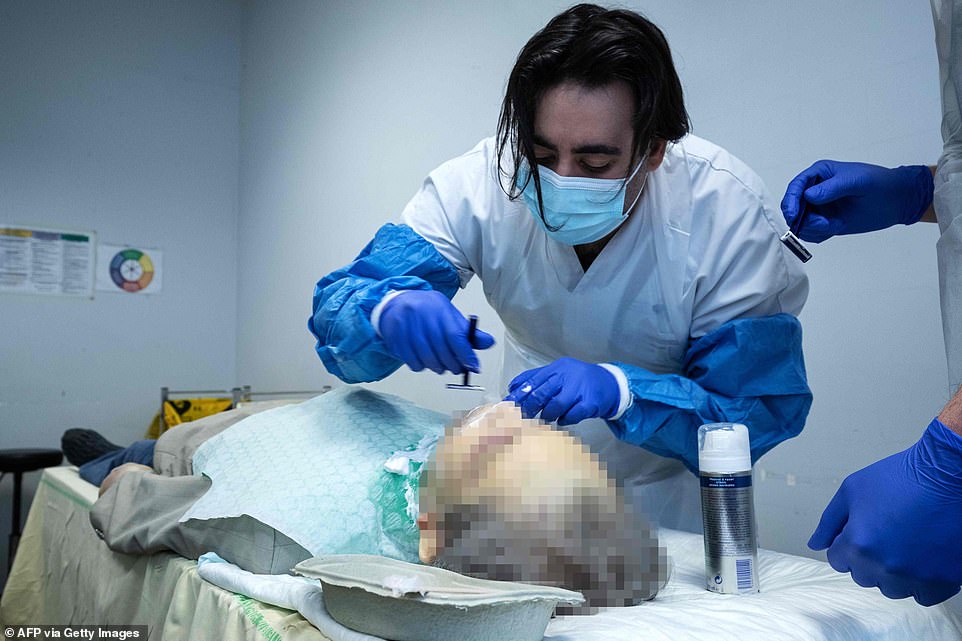 France, like all EU countries, is also being plagued by a slow jabs roll-out that has been hindered by bureaucracy and in-fighting in Brussels, prolonging the country's Covid agony.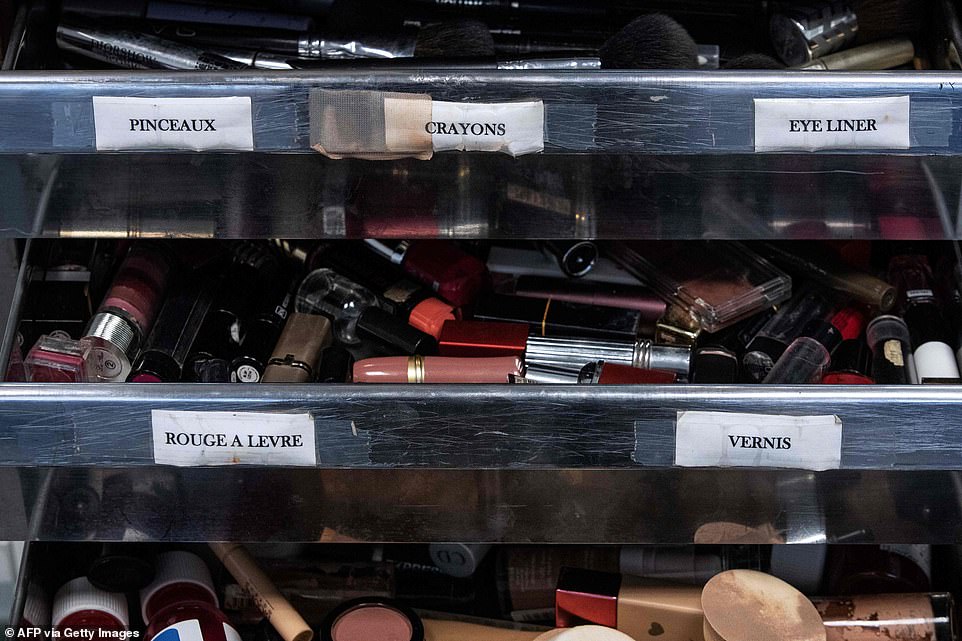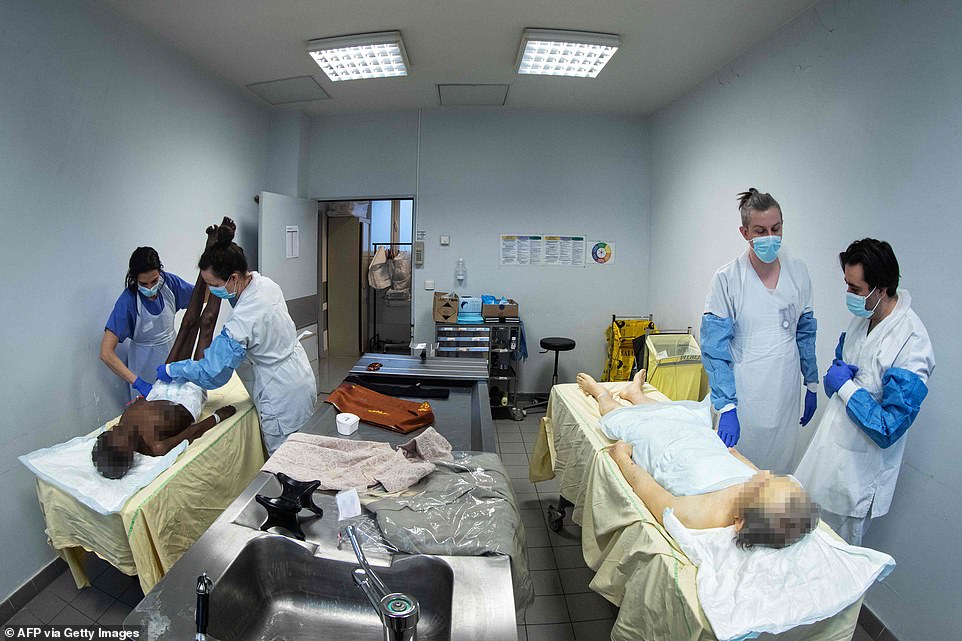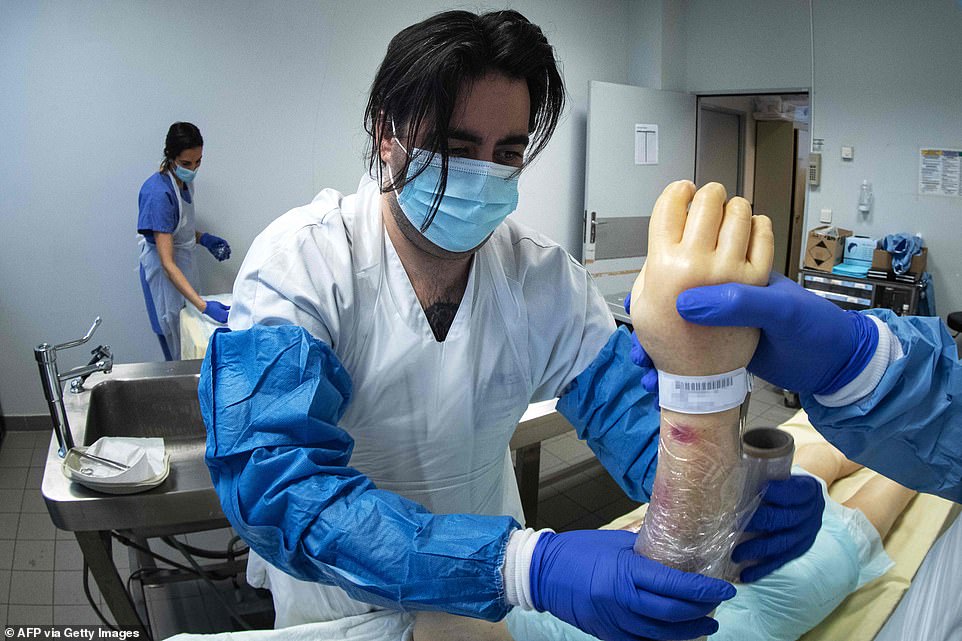 Medical workers wrap the arms of one of the bodies in clingfilm, to prevent any fluids leaking from the skin and on to the clothes as the flesh decomposes
A medical worker (left) stitches the jaws of a recently deceased person together while (right) another worker dresses a body in a shirt before adding a suit jacket and trousers
A fully-prepared body, including cups placed on the eyes to stop them deflating, is moved from the preparation room and into a mortuary fridge where it will be placed into a coffin
A body is moved into the storage fridge at Beaujon Hospital in Paris after being prepared for burial by mortuary workers
Medical workers move the prepared body of a dead man into a coffin, where he will be arranged into a suitable pose ready for viewing and the funeral
The body of a dead woman that has been prepared and dressed is moved into a coffin, where it will be posed ahead of any family viewing and before the funeral
A medical worker arranges a woman's scarf around her shoulders after she was posed in her coffin at a mortuary in Paris
A member of the medical team prepares the viewing room of the mortuary for the arrival of family and loved ones, after a prepared body was placed inside